Village C East
Residence Hall Office (RHO)
The RHO overseeing Village C East is located in the lobby of Village C West. This RHO also serves Village C West and Harbin.Click here to learn more about our RHOs.
Services Provided:
lockout keys
check-in and check-out
package delivery (USPS, UPS, FedEx, DHL)
guest passes
Hours
Monday-Friday: 9am-9pm
Weekends & Holidays: 12pm-9pm
Phone Number: 202.687.2673
Location: Village C West Lobby
Submit a Work Order
About
Village C East (VCE) is an inclusive and welcoming community which aims to serve the needs of all Hoyas, from first-year to upperclass students. With ample opportunity to engage in your community and with your neighbors, Village C East is a residence hall full of stimulating conversation, community learning and unforgettable relationships. VCE also serves as the home to the Crossroads Community, a living learning community exploring gender and sexuality.
Room Features
Average room square footage: 199.58 sq ft.
Each room is furnished with:

bunkable beds
built-in desks with chairs
wardrobes
wall-mounted shelf
carpeting throughout
Community Features
10 floors

, varying layout and number of rooms

Double occupancy with private bathrooms

Generally co-ed floors

Furnished community room on each floor for socializing and studying complete with:

tables and chairs for studying

cable TV

full kitchen

Residential Minister

​

Laundry facilities on the third floor

Mail facilities in lobby

Vending machines available

Wi-Fi coverage in all rooms and common areas

Cable is available for a monthly service fee through our campus provider, RCN

Print stations are available

in the second floor common room
Mailing Information
Packages
Students Full Name
Village C West RHO
Village C East & Room Number
Georgetown University
3700 O St. NW
Washington, DC 20057
Letter Mail
Students Full Name
Village C East & Roomt Number
Mailbox Number
Georgetown University
3700 O St. NW
Washington, DC 20057
Community Director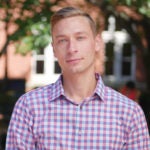 Community Directors are professional live-in staff members employed by the University. These professionals work directly with students, Residential Ministers, Faculty-in-Residence, and campus partners to create a formative living-learning environment for our students. Community Directors oversee the Resident Assistant staff within their residential community and develop and implement community educational plans.