LXR
Submit a Work Order
About
As a traditional style upperclass residential community, LXR was originally comprised of three buildings: Loyola, Xavier, and Ryder. The buildings were eventually renovated and connected to form one residential community. LXR and Nevils, along with the Walsh academic building, make up Georgetown's East Campus. These three share an outdoor courtyard which contains park benches, shady areas, grills, and space to park bicycles. Close to M street, LXR offers a great community atmosphere for upperclass students outside the University gates.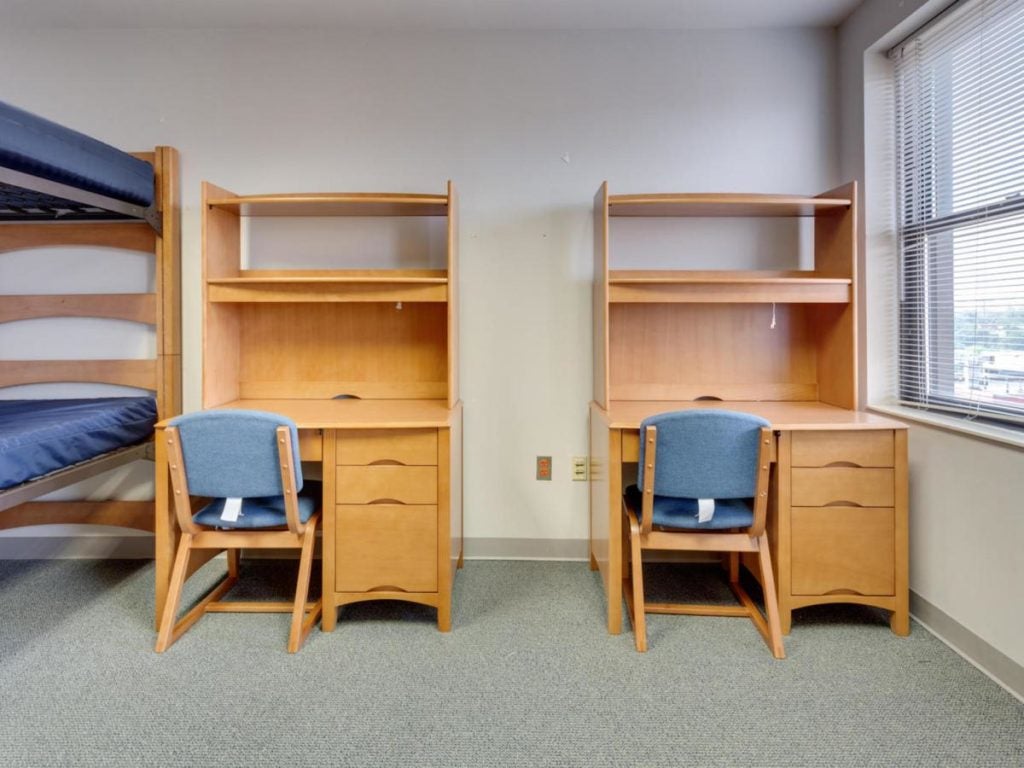 Hall Features
6 floors (5th floor is all-female identifying residents)
double and triple occupancy rooms with a few single rooms scattered throughout
a community room with newly renovated kitchens is located on each floor
the ground level contains:

multi-purpose room with a kitchen
two music practice rooms
two seminar rooms

Outdoor grill area
Faculty-in-Residence
Residential Ministers
Lobby seating & study space (renovated spring 2021), laundry facilities, and vending machines
Print stations are available
Room Features
A standard LXR double is approximately 16 feet in length and 12 feet in width
Each room contains the amount of furniture appropriate for the number of residents (two or three):

moveable/bunkable beds

movable desks with hutches and lights underneath
desk chairs
built-in wall cabinetry with closets, drawer space, and hutches

Vinyl plank flooring (installed summer 2020)
Thermostat control
LXR residents interested in a microfridge can rent one from MyFridgeRental.com. This is the only option for students interested in microfridges in their on campus housing space.
Mailing Information
Letter Mail & Packages
Students Full Name
LXR | Room Number
Georgetown University
3700 O St. NW
Washington, DC 20057
Community Director
Maddie Smith
ms5000@georgetown.edu
202.687.7054
Community Directors are professional live-in staff members employed by the University. These professionals work directly with students, Residential Ministers, Faculty-in-Residence, and campus partners to create a formative living-learning environment for our students. Community Directors oversee the Resident Assistant staff within their residential community and develop and implement community educational plans.