Village A
Submit a Work Order
About
Village A, an upper class apartment complex, is designed as a series of townhouses with connecting catwalks. Access to indoor stairwells and covered walkways provide sheltered transportation during rain and cold temperatures. Some Village A apartments contain private balconies with sliding glass doors, which provide a spectacular view of the Potomac River. Rooftop apartments have large decks with a clear view of Rosslyn, Virginia and several Washington landmarks such as the Washington Monument, Lincoln and Jefferson Memorials, Kennedy Center, and Watergate Hotel.
There are three unique floor plans to Village A; one is split level, another is two levels and the last is a single floor layout. In the middle of the complex (at the end of C Block) is the Village A Community Room and grills; a popular spot for programs and some weekend grilling events. Large patios are great for hosting gatherings and are often a place where Hoyas come to socialize on the weekends.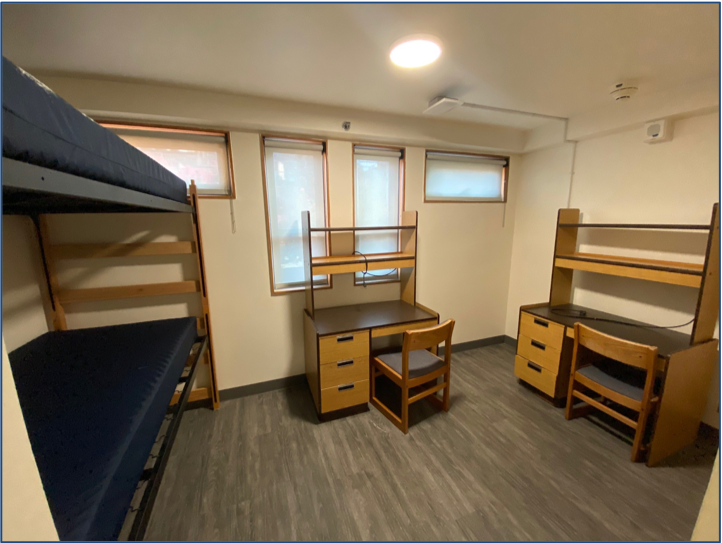 Room Features
Average room square footage: 176.47 sq ft.

Average apartment square footage: 764.98 sq ft.

Bedrooms are furnished with:

two beds

2 dressers
30″ writing desk with hutch & accompanying 2 drawer rolling pedestal
closets within the bedrooms are open, without doors, and have shelf space on top
Apartment Features
Village A consists of four-person apartments with their own entrances

two double rooms
one shared bath

Village A living rooms have:

either one sofa and one easy chair or a love seat and two easy chairs

lamps
a dining table with 4 chairs

the kitchen may be located at the end of the living room, or separated from the living room by a wall
kitchen contains:

an electric range
oven
microwave
sink with disposal
cabinets and drawers
a full size refrigerator

bathroom is designed with:

double sinks
a toilet
either a shower or shower/tub combination

hall closet for extra storage
vinyl plank flooring throughout apartment
apartment temperature control
Community Features
Two Residential Ministers
Community room perfect for studying, socializing and community programming
Village A rooftop apartments come with a stunning view of Rosslyn and large patio areas
Laundry and mail facilities on the ground floor
Wi-Fi coverage in all rooms and common areas
Cable is available for a monthly service fee through our campus provider, RCN
Mailing Information
Letter Mail & Packages
Students Full Name
Student
Village A | Apartment Number
Georgetown University
3700 O St. NW
Washington, DC 20057
Community Director
Hunter Bowers (temporary)
hunter.bowers@georgetown.edu 
202.687.6014
Community Directors are professional live-in staff members employed by the University. These professionals work directly with students, Residential Ministers, Faculty-in-Residence, and campus partners to create a formative living-learning environment for our students. Community Directors oversee the Resident Assistant staff within their residential community and develop and implement community educational plans.