Faculty-in-Residence
The Faculty-in-Residence application is now open!
The Position Description and Application are located via this Georgetown Box folder.
Application Deadline:  April 8, 2022
Info Session:  March 22, 2022 at 3 p.m. (ET)
Email Stephanie Lynch (Stephanie.Lynch@georgetown.edu) for the Zoom invitation.
Interviews: April 2022
Decision announcement:  Early May 2022
Approximate move-in: August 15, 2022 (tentative)
Please direct all inquiries to Stephanie Lynch, Assistant Vice President for Student Affairs
The Faculty-in-Residence (FIR) program enables seven faculty members, and their families, to live and interact with students while residing in an apartment within our residential buildings.  FIRs work in close partnership with the Residential Living team to enhance the intellectual environment, support academic excellence and existing Living Learning Communities, provide opportunities for other faculty to interact with students, and engage in the day-to-day life of the residential community.
Faculty members also gain a deeper understanding of what the college experience is like for on-campus residents, which in turn provides a new perspective on how to approach teaching and learning within, and outside, the classroom environment.
366
FIR events coordinated during an academic year
4808
students attended FIR events during an academic year
The FIRs averaged 60 events each per year with an average of 801 contact points with students. This number doesn't include their teaching, research, committee work or other student interactions!
FIRs build relationships with residential students, provide resources and collaborate with the residential living team. FIRs are often involved in events across campus and can be found participating in, or attending lectures, sporting events, discussion groups, theatre productions, and student group meetings.
"I have really enjoyed the community at Arrupe Hall, and my favorite activities including hosting small group discussions on social justice issues…"

—M. Chatelain, Arrupe Hall FIR
"Whenever possible I love to take advantage of using my home for a convening space for the courses I teach… It completely changed the character of the class, in wonderful ways…There was greater comfort, vulnerability, respect, etc."

—T. Howard, Kennedy Hall FIR
"…My FIR project has been to focus on urgent moral problems in the world and domestic politics."

—M. McMorrow, McCarthy Hall FIR
"This year as a Faculty-in-Residence provided many exciting opportunities for growth and learning… I hosted discussions prompted by or co-lead with student organizations including but not limited to, the NAACP, GU Men and Women for Christ, the Patrick Healy Fellows, the Black Student Alliance…"

—S. Colbert, East Campus FIR
Current Faculty-in-Residence
---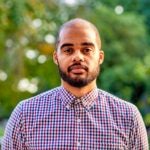 Marcus Board
Marcus Board is an Assistant Professor of African American Studies at Georgetown University. His research deals with theories of race, gender and power in American politics. His courses engage Black politics, public policy, African American history, critical legal studies, and radical Black feminist theories.
As Faculty-In-Residence in Kennedy Hall and co-director of the Transfer Living Learning Community, Professor Board hosts social events, academic events, and community building events. He encourages students to be empowered, have a sense of belonging, and to come together around shared beliefs. He hopes to demystify the professoriate in efforts that lean less on powerful hierarchies and more on collaborative learning, intellectual growth, and community bonding.
Dr. Board enjoys people, movies, and emotional vulnerability. He lives in Kennedy Hall with his wife Miriam, a high-school biology and environmental science teacher, high-school boys basketball coach, extreme competitor in all games, and energetic soul full of life.
---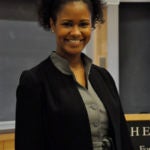 Soycia Colbert: East Campus
Soyica Colbert is the Chair of the Department of Performing Arts, Director of Theater and Performance Studies and an Associate Professor of African American Studies and Theater and Performance Studies at Georgetown University. She is the author of The African American Theatrical Body: Reception, Performance and the Stage (Cambridge University Press, 2011) and Black Movements: Performance and Cultural Politics (Rutgers University Press, forthcoming 2017). Colbert edited the Black Performance special issue of African American Review (2012) and co-edited The Psychic Hold of Slavery (Rutgers University Press, 2016). She is currently working on two book projects, Lorraine Hansberry: Artist/Activist and Performing Seeing: Blackness in Visual Culture and Performance Theory. Colbert has published articles and reviews on Lorraine Hansberry, James Baldwin, Alice Childress, Toni Morrison, August Wilson, Lynn Nottage, Katori Hall, Ntozake Shange, Suzan-Lori Parks, Spike Lee, Kanye West, and Beyoncé Knowles in African American Review, Theater Journal, Boundary 2, South Atlantic Quarterly, Scholar and Feminist Online, and Theater Topics and in the collections Black Performance Theory, Contemporary African American Women Playwrights, and August Wilson: Completing the Cycle. She is the recipient of the Schomburg Scholars-in-Residence Fellowship, Woodrow Wilson Foundation Career Enhancement Fellowship, Stanford Humanities Postdoctoral Fellowship, Mellon Summer Research Grant, and the Robert W. Woodruff Library Fellowship. Her research interests span the 19th-21st centuries, from Harriet Tubman to Beyoncé, and from poetics to performance. She is an avid reader and lover of the arts. She resides in LXR with her husband, Rodger Colbert.
---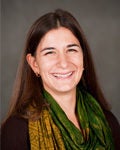 Dr. Elizabeth Grimm (G '10): McCarthy Hall
Elizabeth Grimm Arsenault is an Assistant Professor of Teaching in the School of Foreign Service, as well as the Director of Teaching in the Security Studies Program at Georgetown. She is the author of How the Gloves Came Off: Lawyers, Policy Makers, and Norms in the Debate on Torture (Columbia University Press, 2017) as well as articles on U.S. compliance with international law, terrorist leadership, and counterterrorism policy.
With an expertise in the study of terrorism, torture, and interrogation, Professor Arsenault has taught International Security, International Law, and International Relations courses at the graduate and undergraduate level as well as seminars on intelligence, terrorism, and counterterrorism. She was presented with the Dorothy Brown Award in 2012 by the Georgetown University Student Association on behalf of the undergraduate student body and has also received the School of Foreign Service Faculty of the Year Award in 2012.
She received her Ph.D. in Government from Georgetown University, M.A. in Security Policy Studies from the George Washington University, and B.A. in Government and History from The College of William & Mary. She has also worked in the defense and security sectors of the U.S. government.
Elizabeth lives in McCarthy with her husband Jacques (C'01, G'07) and their two sons, Hugo and André.
---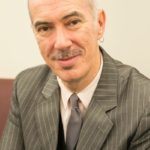 Dr. Guy Spielmann: Reynolds Hall
Born in Marseille, France, Guy Spielmann (Ph.D. Vanderbilt University) is associate Professor of French in Georgetown College. He teaches courses—most usually in French—in performing arts as well as linguistics. While he joined the Georgetown faculty in 1994, he has also held visiting positions in various institutions in France (the Department of Drama at the Université Marc Bloch/Strasbourg II (2001-2003), the Department of Performing Arts at the Université Paris X-Nanterre (2001), and lately (2011-12) in the Department of Performing Arts and Literature at the Université Stendhal-Grenoble III).
His scholarly interests cover Early-Modern European performing arts broadly conceived, with a particular focus on stagecraft and non-literary genres (such as fairground theater and commedia dell'arte), as well as various forms of popular culture, notably film and comics. He is currently completing a comprehensive theoretical work on a possible "science of spectacle" under the working title, Spectacle Events.
Guy likes to mix text-driven research and stage production experience, and founded a theater group in 2002, La Compagnie SapassoussakasS, in order to put on shows and direct workshops—so far he has led groups of amateur and professional actors in the U.S.A., Québec, France, Tunisia, Morocco, the UK, Spain and Switzerland. His specialty is a kind of farcical, absurdist French drama from the 18th century (known as "Parade"), which he helped revive; in 2007, he took a group of Georgetown Undergrads to a theater festival in Montreal, where they performed some of these plays.
An early adopter of communication technology, he was among the first Georgetown faculty members to set up his own web pages, and later created a virtual resource Early-Modern European performing arts, OPSIS – Spectacles du Grand Siècle.
Other than traveling, lecturing and putting on shows, Guy loves to haunt museums and monuments of all kinds, to attend plays, operas and rock concerts, but he also enjoys cooking, spending time in gardens (though he can never remember the names of flowers), and discussing underground cinema from the 60s and 70s.
In August 2012, he begins a residency in Reynolds Hall as adviser of the Culture & Performance Living Learning Community (CPLLC), and will be directing a new drama workshop in the French department in the Fall.
---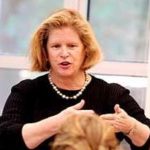 Joan B. Riley (N'76 & G'97): Copley Hall
Professor Riley is on the faculty of the School of Nursing & Health Studies in the Departments of Nursing and Human Science and works as a Nurse Practitioner at the Student Health Center.
Her work focuses on the scholarship of teaching in the area of health promotion. Recent work links academics with wellness issues, educating the whole student and using reflection to provide transformative educational experiences. At GU she is a member of the Engelhard Project team, part of the national Bringing Theory to Practice project supported by the Charles Engelhard Foundation of New York City in partnership with the Association of American Colleges and Universities.
Professor Riley has been recognized for her excellence in undergraduate teaching and mentoring as a U.S. Professor of the Year for the District of Columbia by the Carnegie Foundation for the Advancement of Teaching and the Council for Advancement and Support of Education. She is the recipient of the Dorothy Brown Award in 2007 and the John Carroll Medal in 2009, and will be inducted as a Fellow of the American Academy of Nursing in October 2011.
She works with government agencies, community partners and advocacy groups to improve the health and well being of persons with developmental disabilities, and serves as faculty advisor to the Georgetown chapter of Best Buddies International. Joan and her husband Steve (F'76) enjoy cooking, walking and travel.