Townhouses
Submit a Work Order
About
University townhouses surround the Georgetown campus along 36th, 37th, O, N, and Prospect Streets. Townhouses vary in size, levels, and capacity, and contain unique layout features. Some houses are designated as historic by the Georgetown Historical Society. While these houses serve as an alternative to on-campus residence halls, Townhouse residents remain conveniently close to campus and are able to obtain the same services as other residents.
NOTE: first-year and sophomore students are not eligible to live in the townhouses.
Community Features
Townhouses generally house four to five students

Many houses have 2 or 3 levels, which may include basements or attics (may not be usable)
Unfinished basements are considered "un-livable space," and are forbidden as sleeping areas, but may be used as study areas, dressing areas, or TV rooms
Townhouses are fully furnished, carpeted, and are equipped with dishwashers and full size washers and dryers.
Most townhouses do not have overhead lighting, except in the kitchen and bathroom areas.
Students are encouraged to bring their own lighting. Halogen lamps are prohibited
Many of the townhouses contain outdoor patios or porches
Two Residential Ministers

Mail and packages are delivered directly to the townhouse

Laundry facilities in each townhouse
Wi-Fi coverage in all rooms and common areas
Cable is available for a monthly service fee through our campus provider, RCN
Please view a map of Townhouse trash collection sites here
Mailing Information
Letter Mail & Packages
Full Name
[House Number] [Street Number] Street NW
Washington, DC 20007
Community Director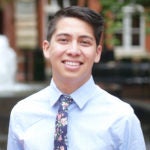 Community Directors are professional live-in staff members employed by the University. These professionals work directly with students, Residential Ministers, Faculty-in-Residence, and campus partners to create a formative living-learning environment for our students. Community Directors oversee the Resident Assistant staff within their residential community and develop and implement community educational plans.