Nevils
Submit a Work Order
About
As an apartment-style residential community for rising juniors and seniors only. Nevils contains mostly four, five, and six-person apartments with full kitchens and one or two full baths. These apartments are particularly popular with upperclass students because of their spaciousness and unique design. LXR and Nevils, along with the Walsh academic building, make up Georgetown's East Campus. These three share an outdoor courtyard that contains park benches, shady areas, grills, and space to park bicycles. Close to M street, Nevils offers a great community atmosphere for upperclass students outside the University gates.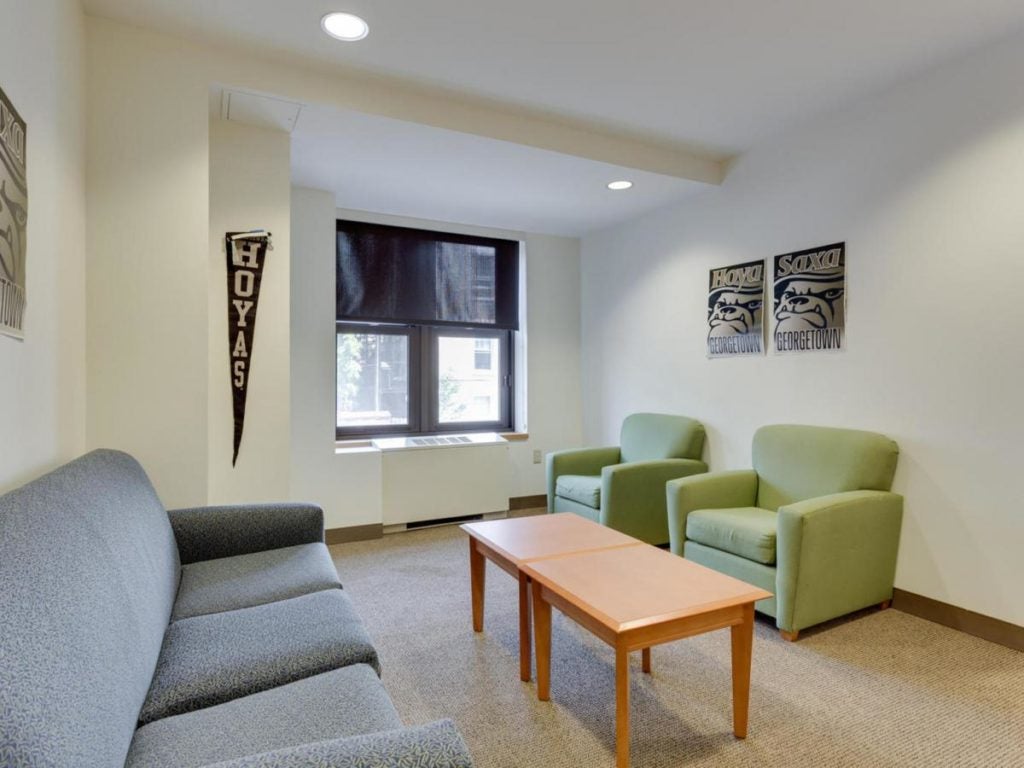 Hall Features
Nevils is comprised of four sections: Nordhoff (N), Kober (K), Riggs (R), and Lisner (L)

four-person apartments with two bedrooms, one bath
five-person apartments with two bedrooms, one bath
six-person apartments with three bedrooms, two baths

one bedroom and one bathroom ( sometimes a half-bathroom without a shower) are on the entry-level
two bedrooms and a full bath (usually containing double sink and showers) are on the second level
some apartments have hard flooring instead of carpeting
the living rooms are furnished with:

a sofa or loveseat
one or two armchairs
one or two end tables
a dining table and chairs
some apartments have a shelf unit, although it is not a standard piece in every apartment

the kitchens vary in size, but all include:

an electrical range
double sink with disposal
spacious cabinets and drawers
full-size refrigerator with freezer

Faculty-in-Residence
Residential Ministers
Laundry facilities with an adjacent folding/TV room and vending machines on the basement level of LXR

Mail facilities on the first floor of LXR

Cable is available for a monthly service fee through our campus provider, RCN
Print stations are available
Room Features
Average* apartment square footage is as follows for the 4 sections:

N = 1006.17 sq. ft.

K = 925.89 sq. ft.

R = 1102.08 sq. ft.
L = 1218.75 sq. ft.

beds in Nevils apartments may or may not be bunkable

non-bunkable beds furnished with under bed drawers for storage
in rooms with bunkable beds, dressers are provided

some apartments have platform lofts, which allow for more floor space and provide a sleeping area for one person
loft size: 85 ½" L x 39 ½" W

some bedrooms also have a study alcove which provides a secluded space for a desk or bed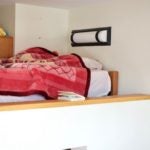 Apartments with Lofts:
K-03 (2 rooms), K-04 (2 rooms), K-05 (2 rooms), K-06 (2 rooms), K-08, K-25, L-02, N-02, N-03, N-04, N-06 (2 rooms), R-01, R-02 (2 rooms), R-03 (2 rooms), R-05 (2 rooms), R-21, R-28
Mailing Information
Letter Mail & Packages
Students Full Name
Nevils | Room Number
Georgetown University
3700 O St. NW
Washington, DC 20057
Community Director
Maddie Smith
ms5000@georgetown.edu
202.687.7054
Community Directors are professional live-in staff members employed by the University. These professionals work directly with students, Residential Ministers, Faculty-in-Residence, and campus partners to create a formative living-learning environment for our students. Community Directors oversee the Resident Assistant staff within their residential community and develop and implement community educational plans.