2023-2025 Residential Changes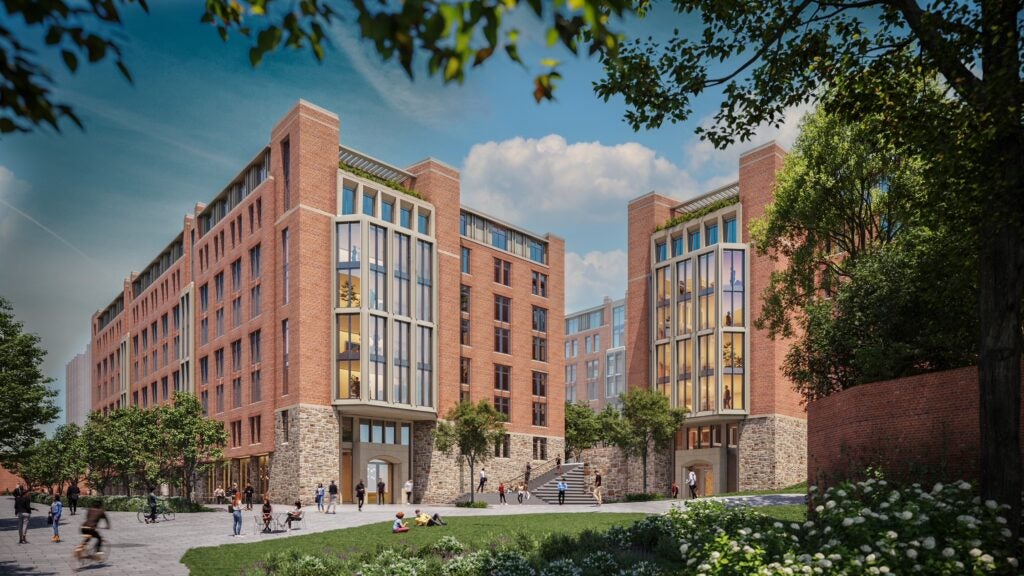 Following the University's announcement regarding construction of the new Henle residential complex starting in early summer 2023, the Office of Residential Living would like to announce updates to on-campus housing opportunities and policies as a result of this changing housing capacity. Changes will begin for the 2023-2024 academic year.
New Housing Opportunities
The current Henle residential complex offers nearly 470 campus spaces in apartment style living to upperclass residents. For the 2023 – 2024 and 2024-2025 academic years, campus housing will be impacted in the following ways:
The GU Hotel will become a residential community of single, double, and triple private bathroom units totaling 298 residential beds.
This building will be available for upperclass students to self-select into rooms during the spring Housing Selection process. Floor Plans and pictures will be available for viewing in the Housing Selection Fair in February 2023.
A handful of double rooms in the Southwest Quad, New South, Copley and LXR will be converted to triple rooms.
These designated rooms have been evaluated by staff architects in Capital Projects and confirmed as appropriate spaces for three residents. This will offer approximately 53 more additional spaces on campus. Disclaimer: while we do not anticipate the number of triple rooms increasing, should other spaces on campus come available for residential use, we will reduce the number of triples rooms created.
A select number of study rooms in the Southwest Quad will be converted to single occupancy spaces. This will offer 8 additional single rooms on campus.
University townhouses will continue to follow a renovation cycle, with both residential and office townhouses scheduled for updates each year. Residential Living will confirm before Housing Selection the residential townhouses schedule for renovation.
On-Campus Residency Requirement Flexibility
During construction, the University is modifying the Residency Requirement to allow a limited number of students in the class of 2025 the flexibility to live off campus for two years, as long as they live outside the neighborhood boundaries during their junior year. Students can also choose to live in Georgetown's new apartment-style residence hall at 55 H Street NW, which includes free shuttle-bus transportation to the Main campus. The junior year swap option will still be available, but only to students who live outside the neighborhood boundaries.
Up to 50 applications will be approved for the Junior Swap and 50 applications will be approved for students pursuing the off-campus housing criteria of the Residency Exemption application. No cap on applications for students who apply for a Residency Exemption under the age, local residence, marital or dependent categories. Details about applying for either of these options can be found in the Residential Living Housing Handbook.
To request this opportunity to live off campus, a student may either apply for this under the Residency Exemption application or through the Junior Swap application. For either application, students must provide supporting documentation indicating where outside the neighborhood boundaries they will live.
The Residency Exemption and Junior Swap applications are available in Hoya Housing starting on November 7, 2022 and closing on March 1, 2023.
What's the difference? Applying to live off-campus under the Residency Exemption will not require you to return to live on campus for any subsequent year, while applying for the Junior Swap will require you to return to campus for senior year, however, guaranteeing students Senior Eligibility. Senior Eligiblity is required for any senior who wishes to live on campus. Seniors cannot participate in the Housing Selection process without Senior Eligibility; Seniors with Eligibility have the highest choosing priority during the Housing Selection Process.
2023-2024 Senior Eligibility application opens November 7 and closes November 11, 2022. Rising seniors who do not apply for Eligiblity within this window will be waitlisted. Details about this process can be found under the Eligibility section of the Housing Handbook.
Neighborhood boundaries:
The Georgetown, Burleith, and Foxhall communities are defined as the neighborhoods bounded on the east by Rock Creek and Potomac Parkway, on the south by the Potomac River, on the west by Canal Road and the Georgetown Reservoir, and on the north by Whitehaven Parkway to Foxhall Road to Hoban Road to Reservoir Road to 39th Street to Whitehaven Parkway (including the 1900 blocks of 39th and 38th Streets) to Whitehaven Street to Dumbarton Oaks Park on the north.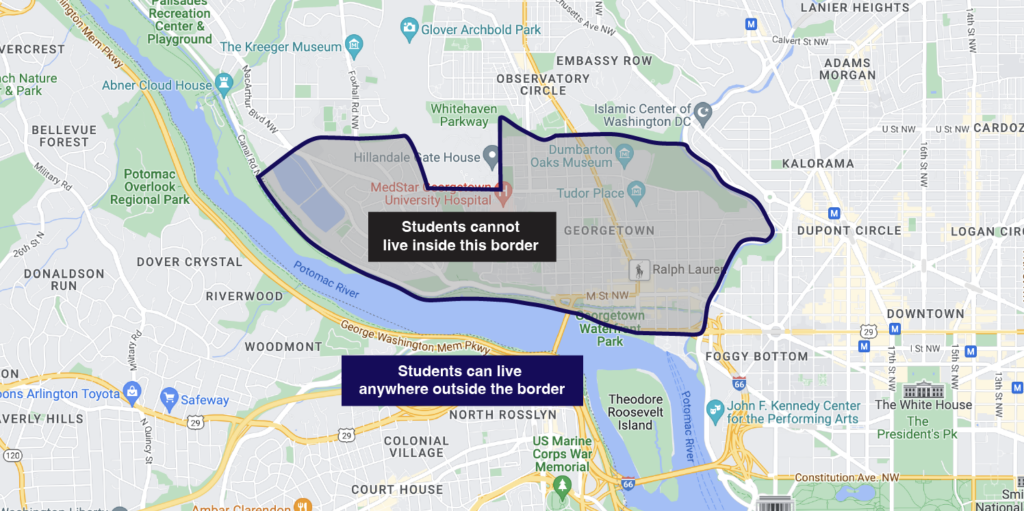 Housing Selection Changes
In response to the change in campus housing options due to the Henle construction, and as part of our continual commitment to ensuring our processes are equitable and accessible to all students, the following selection processes will be instituted instituted as part of the permanent selection process:
Between the Group Formation period and the end of the cancellation fee window, (March – May) if a Housing Selection group is formed with a Senior group member and that member later cancels their on-campus housing reservation in that on campus housing space, the group may only replace that Senior group member with another Senior. This includes Seniors who transfer their eligibility to 55 H Street NW.

This change is to ensure students of different class years (sophomores, juniors) cannot "buy" a senior student's cancellation fee and to be pulled into housing spaces they would not otherwise qualify for through the regular process.

Residential Living acknowledges this has been taking place in the past Housing Selection years in a process students refer to a "waterfalling."

In addition to Townhouses being junior and senior-specific housing, the Nevils Apartments will also be reserved only for junior and senior students. When the new Henle residential complex is online for the Fall 2025 semester, this complex will also be a junior and senior only building.
Housing Information Session
Residential Living will be hosting an online information session to discuss these updates and answer any questions on Wednesday, November 9, 2022 from 6-7 p.m., ET.