Ida Ryan & Isaac Hawkins Hall
Submit a Work Order
About
Ida Ryan Hall & Isaac Hawkins Hall is home to the Spirit of Georgetown Residential Academy. Celebrating the nine tenets of the Spirit of Georgetown, the 148 students selected to reside in the Spirit of Georgetown Residential Academy will have the unique opportunity to reflect on their time at Georgetown through formative activities and events, founded on strong community engagement and ownership.
For many decades, the Jesuit community of Georgetown University built their community within the corridors of these historic buildings. Built at the turn of the 19th century, nestled within the historic quad of campus and overlooking the Potomac River, the Former Jesuit Residence has a lasting significance on Georgetown's campus.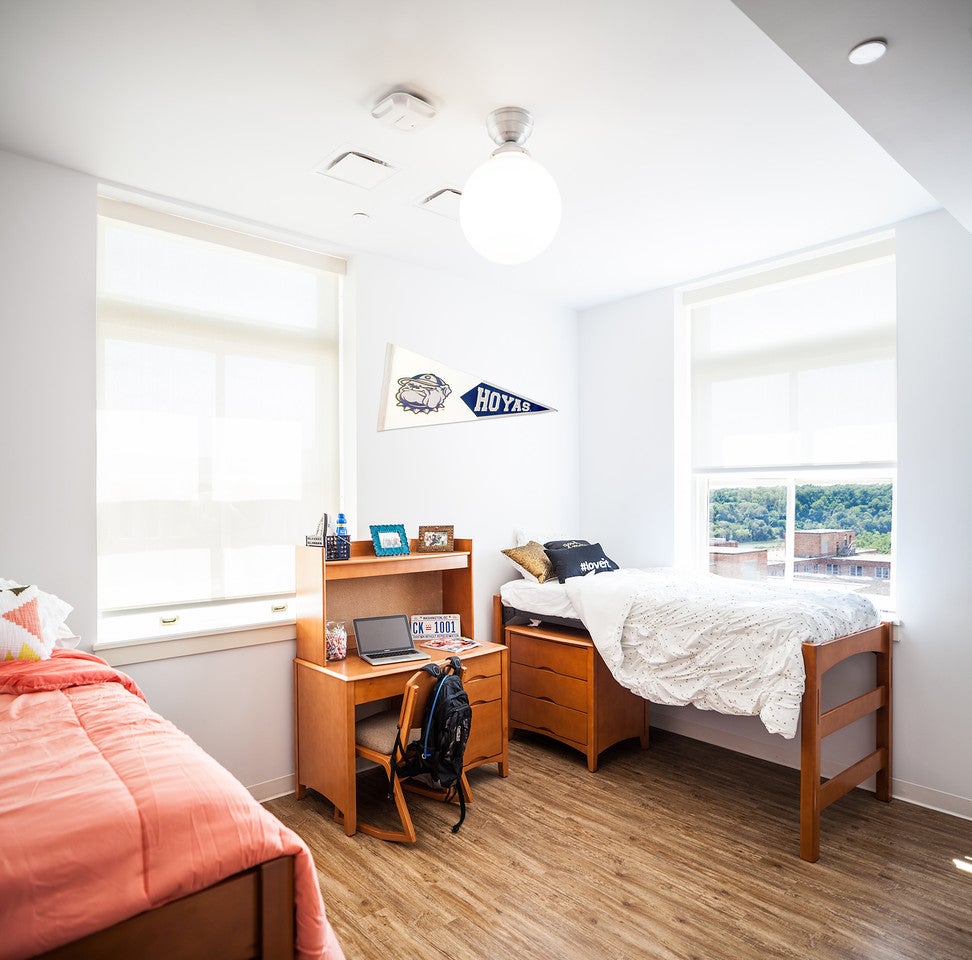 Room Features
Ida Ryan and Isaac Hawkins Hall offer students a number of unique housing options. Students may select to live in groups ranging from 2 to 9 in one of the following accommodation types:

2 person double with bath
4 person semi-suite (some lofted)
4 person apartments (some lofted)
6 person apartments (some lofted)
8 person apartments (some lofted)
9 person apartment

Each room is furnished with:

a bed for each resident
a desk with hutch and a chair for each resident
set of drawers
built-in closets (no doors)
hardwood flooring
its own temperature control

Ryan & Hawkins residents living in suites (not apartments) interested in a microfridge can rent one from MyFridgeRental.com. This is the only option for students interested in microfridges in their on campus housing space.
Hall Features
148 students who applied to be a part of the Spirit of Georgetown Residential Academy
5 co-ed floors
double occupancy bedrooms rooms within suites, semi-suites and apartments
Memorial Hall community space on the 2nd floor

billiards table
couches, tables and chairs for studying
balcony overlooking the Potomac River
2 flat screen televisions

Potomac Terrace (5th Floor)
Outdoor gathering space
Unhindered views of the National Mall and the Potomac
Jesuit-in-Residence
Community Assistant
Full kitchens are located in each floor community rooms. Kitchens include an oven, sink, refrigerator and microwave. (Cooking utensils are not provided.)
Laundry on the ground floor
Courtyard with outdoor seating and grill area
Vending machines on the ground floor
Letter Mail & Packages
Students Full Name
Ryan/Isaac Hall | Room Number
Georgetown University
3700 O St. NW
Washington, DC 20057
Community Director
Troy Meury
tem86@georgetown.edu
202.687.2034
Community Directors are professional live-in staff members employed by the University. These professionals work directly with students, Residential Ministers, Faculty-in-Residence, and campus partners to create a formative living-learning environment for our students. Community Directors oversee the Resident Assistant staff within their residential community and develop and implement community educational plans.