Leavey
formerly the Georgetown University Hotel
Submit a Work Order
About
Leavey is a four-floor residential building connected to the Leavey Center Student Center. This building was previously used as residential student housing in 2015-2016. When not used for residential student housing, this building has been managed as a campus hotel.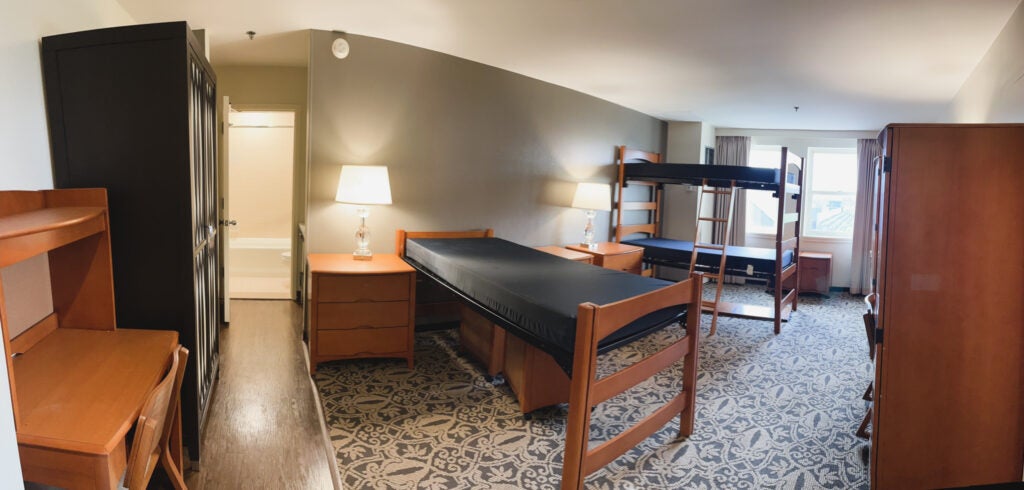 Room Features
Each student receives:

one bunkable bed (beds cannot be lofted)
one small three drawer dresser
one 30″ writing desk with accompanying 2-drawer rolling pedestal
one armoire closet
carpet flooring in all bedrooms
University provided microfridge, one per room
Hall Features
Average room square footage 275 sq ft.
1, 2 and 3-person private bathroom rooms
​

Laundry facilities available

on the ground floor

Wi-Fi coverage in all rooms and common areas

. Wi-fi in Leavey is managed by Astound (RCN). Troubleshooting information located here.

Community room

on the 5th floor with a full kitchen, including a microwave, oven, stovetop and a refrigerator/freezer.
Mailing Information
Letter Mail & Packages
Students Full Name
GU Hotel | Room Number
Georgetown University
3700 O St. NW
Washington, DC 20057
Community Director
Hunter Bowers
hb693@georgetown.edu
202.687.6014
Community Directors are professional live-in staff members employed by the University. These professionals work directly with students, Residential Ministers, Faculty-in-Residence and campus partners to create a formative living learning environment for our students. Community Directors oversee the Resident Assistant staff within their residential community and develop and implement community educational plans.