Student Employment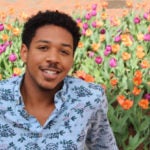 "Working for Res Living is all about the people, I am constantly surrounded by people that are supportive and genuinely enjoy what they do"
—Cameron White, Office Assistant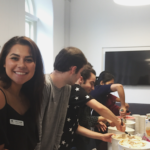 Being a Resident Assistant has given me an inclusive & exciting place within the Office of Residential Living to explore and grow, while also allowing me to create spaces for my residents. I consider it an honor to serve my fellow students as a woman for others and to work with inspiring peers and engaging mentors."
—Antonina Caudill, Resident Assistant
---
Student team members are a key part of our office and are regularly engaging with our residents and guests throughout the entire year. Our office employs more than 300 students each year for a variety of roles. They include:
Office Assistants
Crew Assistants & Lead
Key Assistants & Lead
Resident Assistants
Summer Assistants (Summer only)
Summer Resident Assistant (Summer only)
Summer Leads (Summer only)
Finance Assistant
Marketing Assistant
RJC Administrator
Appointment terms, compensation and responsibilities vary with each position. Below are timelines for the primary hiring processes through our office.
Residential Services Student Team Member Positions
For the fall 2021 semester, the Residential Living team will have a limited number of student team member positions available. Review position descriptions below to find the role that best fits:
Position Descriptions
Remuneration: Hourly pay
Timeline
AY 21-22 position applications are live on Hoya Housing. Priority application deadline: 5 PM ET Wednesday 1 September
Questions? Email residentialliving@georgetown.edu.
2022-2023 Academic Year Resident Assistants
The Resident Assistant position is open to all rising sophomores, juniors, and seniors at Georgetown University. Resident Assistants (RAs) serve as important leaders and resources within our residence halls, apartments, and townhouses. RAs create and execute social and educational programming in line with the University's Jesuit mission to help create a more meaningful living and learning environment. The time commitment is approximately 20 hours each week that consists of programming, team and individual meetings, serving in an on-call duty rotation, and other responsibilities as needed. Each RA serves anywhere from 50-100 residents. This position directly reports to the Community Director of the assigned community. RAs are compensated for their contributions with full room and board costs.
RA Position Description 2022-2023 | Frequently Asked Questions
Timeline:
Monday, November 29, 2021: RA Application Opens

Friday, January 21, 2022: RA Application Closes at Noon ET

Virtual Information Session: In lieu of in-person RA Information Sessions, new RA candidates will have a virtual Information Session to review on the application. This will provide a full overview of position requirements and benefits to help you learn more about the role.

RA Application & Interview Video: This is a required application on your Hoya Housing (new window) (new window) page where you will upload your resume and answer short essay questions about your qualifications/interests. Instead of individual interviews with a staff member, you will also be asked to submit a brief, 5-minute or fewer, video of yourself responding to interview questions. The interview video should be recorded in one take (unrehearsed and unedited); please rest assured that video quality/editing has no impact on the process.

Tuesday, January 25, 2022 to Friday, January 28, 2022: Group Process (Required for New Applicants)

This is a required 30-minute virtual small group interview with a professional staff member and other RA candidates to see how you collaborate as part of a team. You will be able to select a group session time on the online RA application.

Friday, February 11, 2022: First Round Offers live on Hoya Housing

You will receive an email when your RA application status is updated on Hoya Housing. Pending responses to first round RA offers, additional employment offers will be made on a rolling basis as positions become available.

Thursday, February 17, 2022: Deadline to Accept/Decline First Round Offers at Noon ET
For more information or any questions, please email raselection@georgetown.edu.
2022 Summer Student Staff
Join our Summer Operations team & help us welcome summer guests to Georgetown! Summer student positions are a great way to stay on campus for the summer and enjoy all that DC has to offer! Review position descriptions below to find the role that best fits your needs.
Position Descriptions:
Remuneration: Hourly pay & Summer Housing in on campus apartments
Timeline:
Application Open: TBA, spring 2022
Application Close: TBA
Application Review/Interviews: TBA
All Team required Virtual Training: TBA
Questions? Email summerhousing@georgetown.edu
2022 Summer Resident Assistant
Join our team as one of our Summer Resident Assistants. Summer RAs provide programs, attend individual and team meetings, mediate conflicts among our summer residents and participate in an on-call rotation. On campus housing in on-campus apartments/townhouses for the summer is included in the remuneration package.
Summer RA Conditions of Employment
Application Open: TBA, spring 2022
Application Close: TBA
Application Review/Interviews: TBA
All Team required Training: TBA
Questions? Email summerhousing@georgetown.edu
Position are open on Hoya Housing on a rolling basis and vacancies will be filled as they become available.