Engaged Learning
Learning happens everywhere. In the residential communities, we utilize an education-based framework to guide community development throughout the residential communities, in pursuit of a holistic engaged learning process for our students. This happens through several signature initiatives in the residential communities.
Educational Plans
The Educational Plan is the educational framework through which learning is facilitated within the residential communities. Learning is anchored on five values: Care, Student Ownership, Faith & Justice, Inclusivity, and Learning.
In the 2016-2017 academic year, student and professional staff hosted over 1,400 programs focused on the values. Over 50 of those programs were either led or co-sponsored by Georgetown Faculty.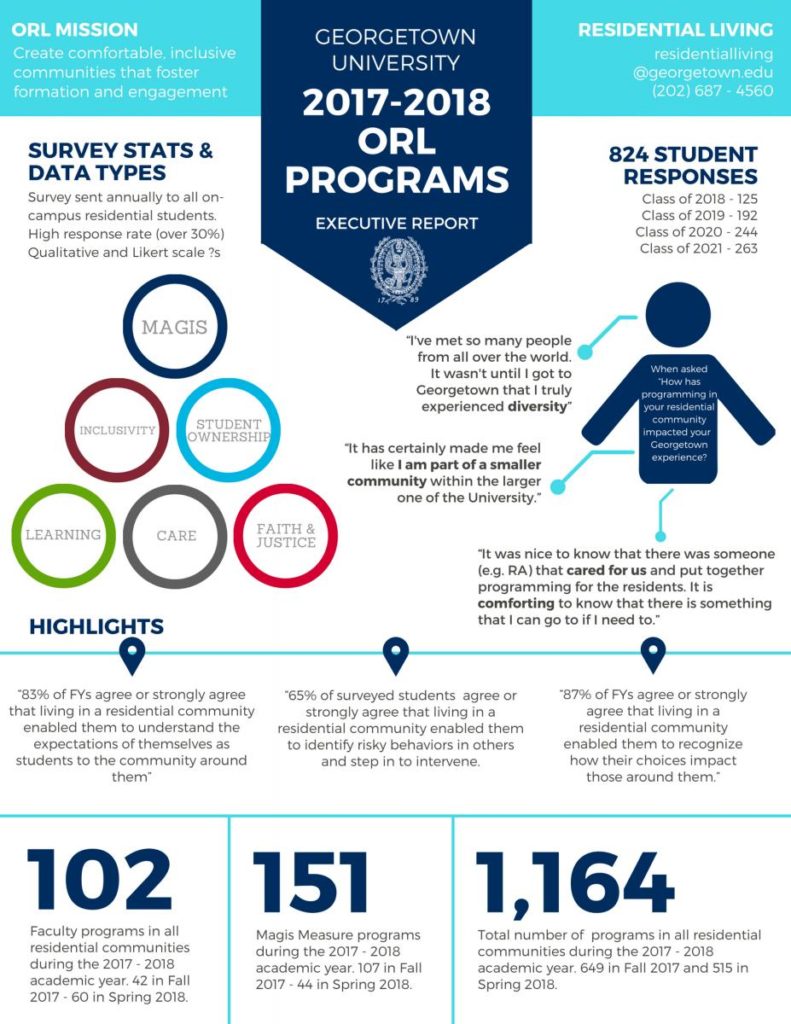 "I have had some of the best educational experiences in common rooms; we talk about our classes, debate our viewpoints, and discuss developing events and the culture on campus– as we see it and as we experience it."

— Program participant
Collaborative Initiatives
Georgetown's faculty are a key stakeholder in the education of our students not only within the confines of the classroom, but also within our residential communities. Faculty-in-Residence serve in six communities across campus.
Collaborative Initiatives
Living Learning Communities
Living Learning Communities (LLCs) are residential communities where like-minded individuals can share and deepen their passions through social, educational, and reflective activities. These communities support Georgetown University's focus on active and collaborative learning by extending discussions beyond the classroom, creating new opportunities for students and faculty to interact, and promoting the value of experiences which occur in residential spaces. At Georgetown, we have fourteen Living Learning Communities where students can explore themes of academic interests, service learning, social justice and inclusion, and inter-faith, among others.
platED
platED is dedicated to maintaining and building an inclusive environment for the residential community through discussions surrounding issues of diversity, identity and social justice within their residence halls and spaces.  platED is a discussion between students and a faculty/staff member over a meal which takes place within the residential communities at Georgetown. Faculty and staff members are paired with a group of students who are interested in discussing a D7 topic (Religion/Spirituality, Race/Nationality/Ethnicity, Socioeconomic Status, Gender, Sexual Orientation, Body Image, Ability, and Current Topics). Additionally, there are opportunities to lead and present on topics for our monthly large-scale programs.  
Moveable Feast
Moveable Feast is designed to encourage students, faculty, and academic deans at Georgetown to have substantive conversations outside of class, engaging around topics of academic interests, future studies and general life experiences. Meals may take place in the comfort of the student's own home or at a local restaurant.