Moveable Feast
Moveable Feast is on hiatus through December 2019.
Please check back in January 2020 for an update.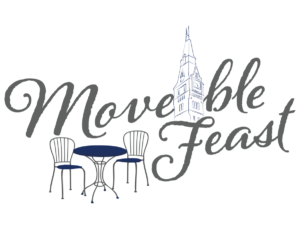 The name, A Moveable Feast, is taken from Hemingway's memoirs. In his memoir, he writes "If you are lucky enough to have lived in Paris as a young man, then wherever you go for the rest of your life, it stays with you, for Paris is a moveable feast." We hope this program will encourage reflective conversations with students and faculty that will stay with students after their final class at Georgetown.
Have you ever thought:
What does my professor do outside of class?
I wish I could talk further with my professor about a particular subject from class.
What was my professor's major in college?
I wonder what my professor thinks about a specific current event.
What path did my professor take to get to this point?
Answers to your questions are just a meal away! Moveable Feast encourages students and faculty to have substantive conversations outside of class, engaging around topics of academic interests, future studies and general life experiences. Moveable Feast will begin accepting applications in November 2019.
Ask a professor to dinner, invite a few classmates and we do the rest!
"The professor invited us to his home, which was a much more casual setting than the classroom, and where we felt like we could have a much more interactive conversation than during lecture."
"I really feel like I got to know a different side of Prof. Ryan. He is so kind and really cares about his students and this meal gave us an opportunity to get to know him as a person, not just as a professor."
"I simply enjoyed the opportunity to chat with my professor over dinner. I feel as though I got to know him better and was able to talk about some of my own background. Overall, it was a very rewarding experience."
Details
Moveable Feast is designed for groups of 3 to 6 people.
Undergraduate students and faculty members are invited to participate.
The student invites a professor, determines the date, time and location, then submits an application.
A member of the Office of Residential Living will respond within five business days.
Moveable Feast does not accept applications for meals during study days, final exams or spring break.
For questions please email livinglearning@georgetown.edu.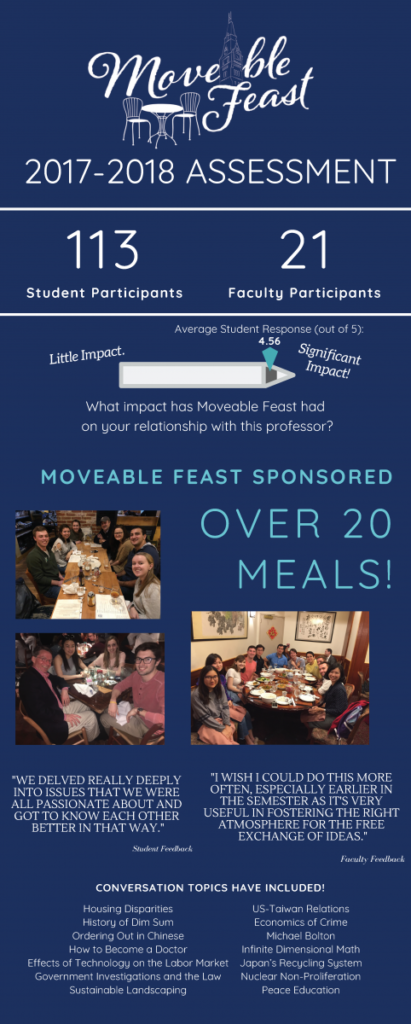 Important Links