Bayit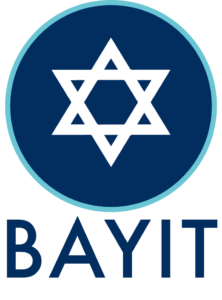 Bayit is the first residential community at Georgetown designed to celebrate and explore Jewish culture, located in Alumni Square. Bayit is an extension of Jewish life at Georgetown, and provides unique opportunities such as keeping Kosher, celebrating high holidays in a home environment, and providing the opportunity for continued interfaith dialogue.
Learning Outcomes and/or Goals
Bayit's goal is to enable students to create a Jewish home for students on campus. Through shared values, community programs, and celebration of Jewish life, residents learn what it means to bring Judaism into their home. Participants are committed to celebrating Jewish culture, heritage, language, and religion.
Key programs:
Shabbat Dinners
Celebration of High Holy Days
LLC Leadership
Advisor: Rabbi Daniel Schaefer (he/him)
Community Director: Milo Alfarero (he/they)
Liaison: Troy Meury (he/him)
Please contact livinglearning@georgetown.edu with any questions
Please note: Bayit is located in Alumni Square and open to upperclass students