Copley Hall
Submit a Work Order
About
Copley Hall is a suite-style, co-ed residence hall. Named for Fr. Thomas Copley S.J., this neo-gothic hall opened in 1932 and is a gray stone structure with arched doorways located across from the main gates. Directly in front of the building is Copley Lawn, a common site for student activity events such as barbecues, fairs, and concerts. It also serves as a popular site to study, throw a frisbee, or just relax during sunny days!
Copley is one of the oldest residence halls on campus. There are many special features and spaces connected to the building, including St. William's Chapel, Copley Formal Lounge, and the Copley Crypt Chapel of the North American Martyrs. Copley also contains a Multi-Purpose Room in the basement level for resident use.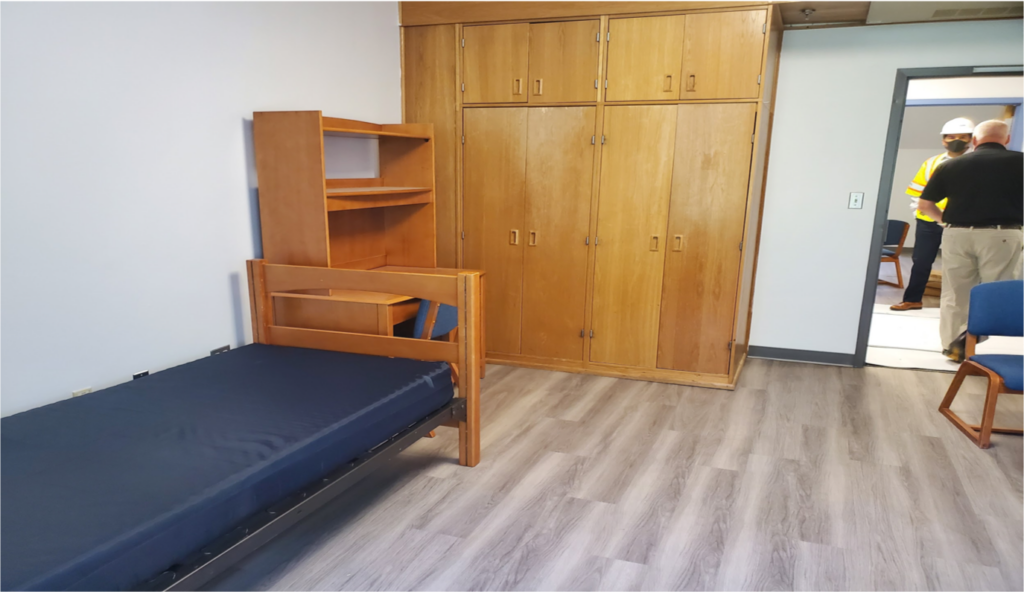 Room Features
Each room has

2 bunkable beds
2 desks with chairs
2 dressers
built-in closets
vinyl plank flooring (installed spring 2021)
its own temperature control
Hall Features
Average room square footage: 212.08 sq ft.

Rooms on the ground floor through the 4th floor are suites

two double rooms

one shared bath

5th Floor is all female, with traditional double rooms that have:

​

a sink and vanity in each room

two community bathrooms

Each floor has:

a furnished community room, usually located adjacent to the elevators
a kitchen with a microwave, oven, stovetop, refrigerator, freezer, and sink with garbage disposal (refurbished spring 2021)
social/study space
couches, tables and chairs
a television and a DVD player

Faculty-in-Residence
Jesuit-in-Residence
Lobby seating & study space (renovated spring 2021), laundry facilities, and vending machines on the ground floor
Print stations are available
Mailing Information
Letter Mail & Packages
Students Full Name
Copley Hall | Room Number
Georgetown University
3700 O St. NW
Washington, DC 20057
Community Director
Troy Meury
tem86@georgetown.edu
202.687.2034
Community Directors are professional live-in staff members employed by the University. These professionals work directly with students, Residential Ministers, Faculty-in-Residence and campus partners to create a formative living learning environment for our students. Community Directors oversee the Resident Assistant staff within their residential community and develop and implement community educational plans.