New South
Submit a Work Order
About
New South is a traditional style residence hall housing first year students. The building setup is fairly common with its long hallways, community restrooms, and a common room on each floor which provide a very social atmosphere for new Georgetown students! Fully renovated in 2004, New South was originally given its name due to it being the "southernmost" building on the main campus.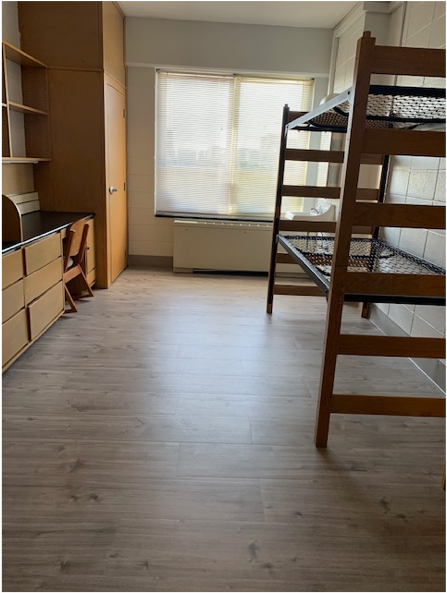 Hall Features
Four floors with 44-50 rooms per floor
Floors are co-ed by wing
Double occupancy bedrooms
Each floor has:

Two common restrooms and shower rooms which are separated by gender

There is also a single-occupancy gender-inclusive restroom on the ground floor of New South

Furnished community room (couches & armchairs, kitchen, television)
Laundry room

Residential Ministers and a Jesuit-in-Residence available for student interaction
Lobby seating & study space (renovated spring 2021) with vending machines
Wi-Fi coverage in all rooms and common areas
Cable TV (RCN) service is no longer supported in New South.
Room Features
A standard New South room is 18ft. long x 11ft. wide
Each room comes furnished with:

Two beds (Twin XL)
Two built-in desks with chairs
Two shelving units
One sink with mirrored medicine cabinet
Either Vinyl plank (installed spring 2021)
Mailing Information
Letter Mail & Packages
Students Full Name
Student
New South & Room Number
Georgetown University
3700 O St. NW
Washington, DC 20057
Community Director
Jonathan Washington
jw2224@kds58
202.687.7430
Community Directors are professional live-in staff members employed by the University. These professionals work directly with students, Residential Ministers, Faculty-in-Residence and campus partners to create a formative living learning environment for our students. Community Directors oversee the Resident Assistant staff within their residential community and develop and implement community educational plans.