Move-In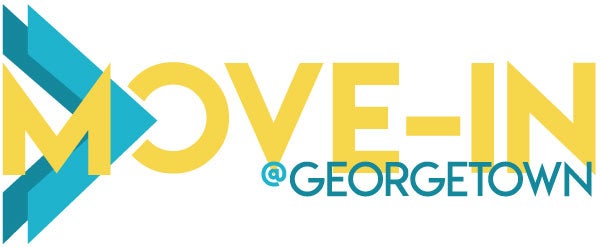 Move-in for first year and transfer students is Friday, August 21, 2020.
This date is required for all new Georgetown students. Students must arrive by this date to attend their New Student Orientation (NSO). 
Students should arrive to campus as close to their assigned time as possible to avoid long delays. 
Assignment times will be posted to students' Hoya Housing portal on August 3rd!
Traveling to Main Campus
Main Campus Address
New students (first-years) living in Darnall, Harbin, New South and Village C West will enter campus via the Canal Road entrance, as will any transfer students moving onto main campus.

For GPS purposes, use 3611 Canal Road NW, Washington DC, 20007 as the destination.
Please review the Move-In Map.
Main Campus Vehicle Queue
Once vehicles arrive to campus, volunteers will direct all vehicles to a move-in queue. While in the queue, vehicles will receive a hang tag specific to the student's building assignment. The tag should be hung on the vehicle's rear-view mirror.

The vehicle queue may take up to 2 hours depending on traffic on and off campus. Please come prepared!
In order to ensure an efficient move-in for everyone, please come as close to the assigned move-in time as possible.

At the end of the queue, volunteers will direct vehicles through campus to the unloading zone for the student's building assignment. Vehicles cannot be left unattended at unloading zones.
In order to ensure a quick move-in for everyone, please come as close to the assigned move-in time as possible.
If arriving to campus earlier than expected, refrain from entering campus until the assigned move-in time. Vehicles may be turned away if arriving earlier than the student's assigned move-in time.

If arriving later than the assigned move-in time, vehicles may join the queue to enter campus.
Vehicles that arrive late to their assigned move-in time are not permitted to skip to the front of the queue.
Taxis, Ubers/Lyfts, & Other rideshare Services
Taxis and rideshare services may join the move-in queue, however, please be mindful that the wait in the queue may be up to 2 hours at peak times
If you do not want your hired car to wait in the queue, please select the corner of 37th Street & P Street NW for your destination. There will be no move-in services (unloading assistance, moving carts, etc.) at that location, but it is the best place to be dropped-off and enter campus on foot.
Oversized Vehicles
The University strongly discourages the use of moving vans, box trucks, trailers, and roof racks. We reserve the right to turn away any vehicle that is deemed to be too large.
Please note that vehicles unable to make a 6'6" clearance will face additional delays during the move-in process.
What to Expect on Campus
Once vehicles are at their appropriate drop-off location, volunteers will assist with unloading belongings into moving carts and take the carts up to student's room assigned room. Students do not travel with the carts.
New students check-in at their building's designated check-in station to receive their room key. Once the student is checked-in, they are free to head to their room.

Elevator use in the residential communities will be reserved exclusively for carts during the move-in period. Exceptions will only be made for individuals with accessibility needs. All students and parents who are able to are asked to use stairs.

Once unloaded, personal vehicles must move to a parking garage on campus or to legal street parking off campus.

Free two-hour parking is available in the Southwest Quad Garage.
The MedStar Hospital parking garage that is located at Entrance 2 off Reservoir Road is strictly reserved for hospital patients and their visitors. Residents and families who park in this garage will be charged $75 (or more) per day. The University is unable to reimburse families for parking fees incurred on or off campus.
Transfer Student Check-in
Transfer students follow the same unloading plan as first-year students. Find your assigned community in the list below and note the designated check-in station. Transfer students will obtain their key from their designated check-in station.
 
Check-in Location
Assigned Community
Darnall Hall
Henle Village
Arrupe Hall
Copley Hall
Village C
Village C West
Village C East
Harbin Hall
Kennedy Hall
Reynolds Hall
New South
Village A
Ryan & Hawkins Hall
McCarthy Hall
East Campus RHO (in the LXR Lobby)
Alumni Square
LXR
Nevils
Townhouses
Traveling to East Campus
East Campus Check-in
Students living in Alumni Square, LXR, Nevils, and Townhouses will not be accessing Georgetown's main campus. Instead, students should plan on parking in the Georgetown neighborhood, as close to their residence as possible.
Townhouse residents can use their street addresses to determine where they should park.
Alumni Square residents should check which street their apartment is located on.
Nevils and LXR can be accessed from entrances on N, 35th, or 36th streets; Nevils is located on the 36th side of East Campus, while LXR is located on the 35th street side.
East Campus residents should check in at the East Campus RHO, located in the lobby of LXR. The entrance is located on 35th street between N and Prospect streets. From there, a team of volunteers will be dispatched to assist with the move.
International Student Move-in
International, exchange, and GU in Qatar students are specially designated to move-in on Thursday, August 20, between 12:00 PM to 4:00 PM. Check-in outside of this designated date and time is not permitted.
International students will retrieve their GOCard and key from a central check-in station in front of New South. Moving carts will be made available at the time of check-in.
There is no vehicle queue. Vehicles may enter campus at the Canal Road Entrance and park in the Southwest Quad Garage for 2 hours at no charge.
Students arriving via Taxi, Uber/Lyft, or other shared-ride services should instruct the driver to enter campus at the Canal Road Entrance into campus, turn right on North Road and then right onto Tondorf Road to drop-off at New South. Follow signs to the central check-in at New South Courtyard.
Please contact the Office of Global Services with any questions regarding International Student Orientation.
First Year Early Arrivals (Pre-O, Athletes)
New students that are arriving to campus prior to August 23rd will have access to free 2-hour parking in the Southwest Quad Garage. Any illegal vehicular traffic and parking is not permitted; cars found in violation may be ticketed/towed. Anyone parking on D.C. streets must obey posted parking signs and rules.
After parking, students will proceed to their designated Residence Hall Office (RHO) to obtain their room key and get directions to their assigned room. Students should follow-up with their Pre-Orientation Advisor for instructions on how to proceed after moving-in.
Beginning August 7th, students can reserve move-in carts through their Hoya Housing portal. Reservation slots are available from August 8th – 19th.
What to Bring
University Furniture
Any furniture that is provided by Residential Living must stay in the room throughout the academic year. Georgetown does not provide storage for unwanted furniture.
Do not take any university furniture home or place it in hallways or stairwells. If the furniture is not in the student's room upon check-out, the student will be charged for replacement.
The Essentials
Surge protector (or power strip) with internal circuit breaker.
Desk lamp (no halogen or kerosene lamps)
Blanket or comforter
Bedsheets (all beds are extra-long twin, now including Darnall Hall)
Pillow and pillow cases
Towels and toiletries
Clothes hangers
Toilet Paper (Village C, Copley, and apartments only)
Umbrella
Chargers for all of your electronics
Waste basket
Laundry basket or bag
Laundry detergent (for high efficiency washing machines)
School supplies
Healthy snacks & drinks
To Make You Feel at Home
Small refrigerator (up to 3.2 cubic feet). All refrigerators must be portable with a capacity no larger than three cubic feet. The refrigerator must be Underwriter's Laboratory (UL), Canadian Standards Association (CSA) or Consumer Product Safety Commission (CPSC) approved.
Kitchen supplies (plates, cups, and utensils)
Small fan (while the rooms are air conditioned, during transitional seasons there can be unpredictable weather)
Hot-pots with self-contained heating units
Area rug if preferred (most rooms are carpeted)
Room decorations (photos, posters, artwork)
Bicycle
Crates and small boxes for storage
Iron, ironing board, drying rack
Shower caddy and shower shoes (rubber flip flops)
Stationery, envelopes, and stamps
Television
Gaming system
Bluetooth speaker
Reusable water bottle
Health Care Needs
Health Insurance Card
Prescribed Medications
Allergy medicine
Acetaminophen (Tylenol) or Ibuprofen (Advil).
Decongestants or other cold remedies
Band-Aids
Thermometer
Vaporizer/humidifier (especially if you have asthma, are prone to bronchitis, or have eczema or dry skin)
Prohibited Items
The following items are not permitted in residential communities and may be confiscated if found in residential spaces.
Microwaves (they are provided in floor kitchens)
Pets, including fish
Extension cords, multi-plug outlets, or power strips that do not have an internal circuit breaker
Candles or lighted incense
Explosives, weapons, firecrackers
Electrical cooking appliances other than hot-pots/plates. These may not be used in student rooms, but can be used and stored in kitchens. 
Kerosene or halogen lamps
Fuel powered engines (i.e. mopeds, motorcycles)
Mercury thermometers
Live cut trees (i.e. Christmas trees)
Space heaters
Bed lofting equipment (please utilize bed risers that can be found at department stores)
Computer extension devices, including but not limited to: computer servers, wireless access points, switches, routers, hubs, Ethernet splitters, any layer 2 device that allows more than one Ethernet device to use any given port at the same time
Grills including George Foreman Grills