Move-In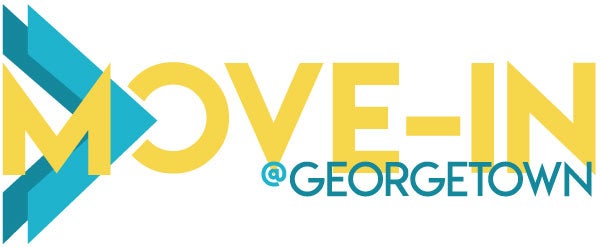 Georgetown University Move-In will take place over the course of 7 days in order to de-densify the move-in process.
Students should arrive to campus as close to their assigned move-in time as possible to avoid long delays. Assignment move-in times were posted to students' Hoya Housing portal on August 12th!
In order to promote physical distancing and reduce density in the halls, move-in this year will look different than in previous years. Below are a few items to be aware of as you plan your arrival:
If you are experiencing symptoms consistent with COVID-19 or you are not feeling well, please do not come to campus. Please contact residentialliving@georgetown.edu for further information and instructions.
We cannot accommodate special requests, early arrivals, or late arrivals.
Everyone will be required to wear a face covering while on campus.
Only students will be permitted to enter the residence hall and assigned room to move in their belongings. Parents, other family members, or friends will not be permitted to enter the residential buildings at any time.
Pack light, and bring only what you need for the semester and what you can reasonably pack and carry home in a single trip. We recommend no more than two suitcases.
Bring cleaning supplies, hand sanitizer, and wipes.
Students should maintain a to-go bag, which includes prescription medications and eyeglasses, non-prescription medications, personal hygiene items, clothing for several days, face coverings, disinfecting wipes, and hand sanitizer that is easily accessible should staff need to enter their residence and retrieve items.
Bring a dolly or other items to assist with your move-in as we will not have volunteers available. A limited number of carts will be available on a first-come basis. If you choose to use a cart, each individual is responsible for its cleaning before/after use.
Whenever possible, we ask students to use stairs to assist with traffic flow and practice physical distancing (six feet or more between individuals).
Pre-Arrival
Immunization Requirements
All students who are on campus are required by DC Law and CDC recommendations to submit information regarding their immunization and/or tuberculosis screening status upon matriculation. If you have not already submitted your immunization information, please do so immediately. The portal for submitting information can be found at georgetown.studenthealthportal.com and is accessed via single sign on with your Georgetown NetID and password. Specific requirements and instructions are found within the portal. For students living on campus, a Spring 2021 Registration hold and $100 fee may result if all requirements are not met by September 1st. If you have any difficulty submitting your information or have any questions regarding this process, please see the Student Health Center website's immunization page and FAQ's.
Please submit any information or records that you do have as soon as possible. You can contact our staff by sending a secure message within the immunization portal. If you have specific requirements or documentation that is missing, our staff can assist you through messaging in the portal to clarify which requirements may be outstanding and schedule you to receive these at the Student Health Center once you arrive on campus. A patient registration form for MedStar Health and the Student Health Center is available in the immunization portal, completing this and submitting this prior to your arrival will simplify receiving care and communication regarding your care once you arrive on campus.
GOCard
GOCard (Georgetown OneCard) is the official identification card of Georgetown University. GOCards provide access into residence halls and approved buildings, and can be used as a source of payment for books, supplies, and laundry. All undergraduate students can now add their GOCard to Apple Wallet or Google Pay.
If you have not set up your GOCard Mobile Student ID, please:
Review hardware requirements to see if your mobile device is compatible.

iPhone: iPhone 6, iPhone 6 Plus or later; iOS 12.2 or later
Apple Watch: Series 1 or later, and watch iOS 5.2 or later
Android: version 5.0 or later

Enroll in DUO two-factor authentication, which is required to access your Mobile Student ID.
For more information, please visit the GoCard website or contact help@georgetown.edu or 202-687-4949 with questions.
Storage Retrieval from Spring 2020
For those students that departed campus last spring, we want to acknowledge that it was a difficult period and appreciate everyone's understanding and support for a complex and quick transition. Any items that were packed by Hilldrup or managed through The Corp will be available once you return. Whenever possible, items packed by Hilldrup will be placed in your room prior to your arrival on campus.
Unauthorized Early Move-in
Students who arrive on campus without approval may not be accommodated until the approved move-in date. Any student who moves in but has not been approved will be charged a $200 fine. Keys and GOCard access will be declined until your approved move-in date.
Traveling to Main Campus
Main Campus Address
All students traveling to DC should enter campus via the Canal Road entrance.

For GPS purposes, use 3611 Canal Road NW, Washington DC, 20007 as the destination.
Please review the Move-In Map.
Parking and Transportation
Parking is available in the Southwest garage and is free for two hours.
Vehicular traffic and street parking are not permitted on campus and cars found in violation will be ticketed.
If parking on city streets, obey posted parking signs. Use Canal Rd to enter campus
Reservoir Road does not currently offer an entrance to the university.

All keys will need to be picked up from Healey Family Student Center during your assigned move-in time.
Specific Information for those Traveling to East Campus (Alumni Square or Townhouses)
Students living in Alumni Square and Townhouses can instead park in the Georgetown neighborhood, as close to their residence as possible.
All keys will need to be picked up from Healey Family Student Center during your assigned move-in time.
Townhouse residents can use their street addresses to determine where they should park.
Alumni Square residents should check which street their apartment is located on.
Taxis, Ubers/Lyfts, & Other rideshare Services
Taxis and rideshare services may join the move-in queue, however, please be mindful that there might be a wait, depending on traffic
If you do not want your hired car to wait in the queue, please select the corner of 37th Street & P Street NW for your destination. There will be no move-in services (unloading assistance, moving carts, etc.) at that location, but it is the best place to be dropped-off and enter campus on foot.
Oversized Vehicles
The University strongly discourages the use of moving vans, box trucks, trailers, and roof racks. We reserve the right to turn away any vehicle that is deemed to be too large.
Please note that vehicles unable to make a 6'6" clearance will face additional delays during the move-in process.
What to Expect on Campus
Check In
Students should proceed to the Healey Family Student Center (HFSC) to check-in.
Only students will be permitted to enter the Healey Family Student Center and your apartment. Family members are able to assist students in moving items while in an outdoor location. Face coverings and proper physical distance apply.
If you wish to spend time with your family (e.g., a meal together), please ensure that you do so before arriving on campus as there will not be time once you arrive.
During check-in, all students will:
Conduct your first on-campus COVID-19 test with One Medical
Sign up for the required additional tests
Pick up your Georgetown University welcome kit and a meal
Check-in with the Office of Residential Living to receive your key to your Fall 2020 room assignment
To aid with contactless move-in, you will receive a QR code by email the week of August 17. Please either print out this code or have it available on your mobile device when you arrive.
Once you receive these materials, you should head back to your apartment to move in your items and start your quarantine period. You will not be able to obtain your key until you have scheduled your additional tests.
Quarantine Wraparound Services
During the self-quarantine period, students are required to stay in their assigned apartments for the duration of their quarantine with the exception of trash disposal, laundry and emotional support animal or service animal care. When using the laundry room note that one person per laundry room, face coverings and physical distancing will be required. Students are not permitted to host any guests while in quarantine or while their apartment roommates are in quarantine. Students may leave the apartment for COVID-19 testing and medical appointments.
GOCard
Your GOCard is now on your phone! With the new GOCard Mobile Credential, cardholders can use their iPhone, Apple Watch, or Android device to get into their residence hall, print documents at the library, pay for lunch, or shop on & off campus at accepting locations.
Cart Availability
There will be limited carts available on a first-come, first-serve basis, but we encourage you to bring your own dollies or carts.
Testing
After you have moved in all your items, completed your errands and said goodbye to your families, you must be tested.
Your on-campus test must be completed once you arrive, then again within five days.
If you completed an at-home testing kit, you must still be tested on the day of your arrival. After testing you will follow the below guidelines for on-campus quarantine expectations.
Quarantine Steps
Students will be required to self-quarantine for 14 days in your on campus apartment if traveling from a high-risk area or international location. Students traveling from other U.S. locations will need to self-quarantine until they receive negative test results from the test they take upon arrival to campus.
If any of these test results are positive, you will receive guidance and support for entering isolation and receiving care.
The university will provide meals and other services for students while in self-quarantine; adhering to your assigned move-in date and time ensure you receive these meals and services.
For other questions about COVID-19, contact the Georgetown University's Main Campus helpline at 202-784-3510 (9 a.m.-5 p.m. EDT Monday-Friday) or email covid19-questions@georgetown.edu.
What to Bring
University Furniture
Any furniture that is provided by Residential Living must stay in the room throughout the academic year. Georgetown does not provide storage for unwanted furniture.
Do not take any university furniture home or place it in hallways or stairwells. If the furniture is not in the student's room upon check-out, the student will be charged for replacement.
The Essentials
Surge protector (or power strip) with internal circuit breaker.
Desk lamp (no halogen or kerosene lamps)
Blanket or comforter
Bedsheets (all beds are extra-long twin, now including Darnall Hall)
Pillow and pillow cases
Towels and toiletries
Clothes hangers
Toilet Paper (Village C, Copley, and apartments only)
Umbrella
Chargers for all of your electronics
Waste basket
Laundry bag
Laundry detergent (for high efficiency washing machines)
School supplies
Health Care Needs
Health Insurance Card
Prescribed Medications
Allergy medicine
Acetaminophen (Tylenol) or Ibuprofen (Advil).
Decongestants or other cold remedies
Band-Aids
Thermometer
Vaporizer/humidifier (especially if you have asthma, are prone to bronchitis, or have eczema or dry skin)
Prohibited Items
The following items are not permitted in residential communities and may be confiscated if found in residential spaces.
Microwaves (they are provided in floor kitchens)
Pets, including fish
Extension cords, multi-plug outlets, or power strips that do not have an internal circuit breaker
Candles or lighted incense
Explosives, weapons, firecrackers
Electrical cooking appliances other than hot-pots/plates. These may not be used in student rooms, but can be used and stored in kitchens.
Kerosene or halogen lamps
Fuel powered engines (i.e. mopeds, motorcycles)
Mercury thermometers
Live cut trees (i.e. Christmas trees)
Space heaters
Bed lofting equipment (please utilize bed risers that can be found at department stores)
Computer extension devices, including but not limited to: computer servers, wireless access points, switches, routers, hubs, Ethernet splitters, any layer 2 device that allows more than one Ethernet device to use any given port at the same time
Grills including George Foreman Grills
Mail & Packages
The University has transitioned to a universal mail and package system managed by Auxiliary Business Services; packages will no longer be delivered and distributed out of individual Residence Hall Office locations.
Mail Services is temporarily distributing letter mail and packages out of McShain Small. Students can pick up their mail and packages Monday – Friday, 10 AM – 4 PM. GOCard identification is required to pick up any student mail or packages. Learn more on the Auxiliary Services website and email questions to auxiliary@georgetown.edu.
Please address all letter mail and packages in the following format:
Residence Halls & Apartments
Student Full Name
Building and Room Number
Georgetown University
3700 O St N.W.
Washington, D.C. 20057
Townhouses
Student Full Name
House Number Street N.W
Washington, D.C. 20007
Health & Safety Expectations
Georgetown has established a set of common expectations, guidelines and safety measures to ensure day-to-day activities support public health efforts to mitigate infection risks. As a reminder, you must sign the Georgetown University Community Compact to gain access to campus buildings. To sign the compact, please log into the GU360 website, click on the "Fall 2020 Affirmation" icon and follow the instructions. You must sign the compact to gain access to campus buildings.
Individuals on campus must wear a face covering over their nose and mouth at all times except when they are alone in their room or office, when they are eating with appropriate physical distancing, when they are in their personal residence without guests, or when they are engaging in outdoor exercise, provided that they are exercising in a space in which they can and do maintain 6' of distance from other people.
You are not permitted to organize or attend parties or gatherings of more than ten people on or off campus. If you participate in a gathering of more than ten people, regardless of the host, you will be subject to disciplinary action under the Code of Student Conduct.
If you live in assigned university housing, you are not permitted to have any guests in your assigned residential facilities—with the exception of other Georgetown students approved to live on campus, in groups of ten or fewer.
Students living on campus during this time may be exposed to health risks associated with COVID-19 that may result in illness. The University cannot control or prevent this risk.
As this is a rapidly changing situation, University staff will continue to take steps they determine to be in the best interest and safety of the campus community and/or appropriate based on operational reasons. This may include temporarily or permanently moving or removing students from their assigned apartments, and altering or stopping services or resources available to students living on campus.
It is critical that students comply with all University rules, policies, guidance and directives during this time. It is also expected that you comply with all directives from the DC government.