Fall 2021 | First Year & New Transfer Move-In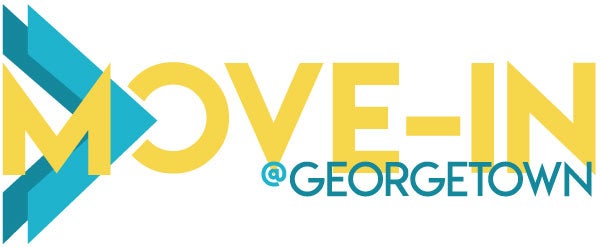 Georgetown University Move-In will take place over the course of 2 days for first year & new transfer students on 19 & 20 August.
Students should arrive to campus as close to their assigned move-in window (30 minutes) as possible to avoid delays. Assignment move-in dates are posted to students' Hoya Housing.
We are excited to welcome you to Georgetown. As you prepare to move on campus, we wanted to provide you with more details of how the 2021 Move-In will work.
Moving in before August, 19 2021? Please refer to instructions sent via email on August 4, 2021 as these instructions mostly apply to students moving in on August 19 & 20.
Move-in is a coordinated process to ensure your arrival to Georgetown is as smooth as possible. Be sure to follow all the guidelines to ensure your move-in and those of your fellow Hoyas goes well.
PREPARING YOUR ITEMS
Make sure that every box, package, and piece of luggage is labeled with your: Name, Building & Room Number, and Cell phone. This ensures that any misplaced items can find their way to your room.
Each student is permitted only one vehicle to campus for move-in.
Avoid traveling in oversize vehicles or using roof racks as these vehicles cannot park in our on campus parking garages and will complicate your move-in process.
Print off the dashboard sign that was emailed to each student. Place this pass in the dashboard of the vehicle you are arriving to campus as it helps our team members guide your vehicle to the proper locations in the move-in queue. Cannot locate the dashboard sign? Email residentialliving@georgetown.edu.
ARRIVING TO CAMPUS & YOUR BUILDING
Students are assigned a one 30 minute window for their arrival on-campus (i.e. 11-11:30 AM). Students should plan their arrival around their assigned window. Assigned windows are viewable on the Hoya Housing portal. Be sure to place the dashboard sign visibly on the dashboard as you enter the queue.
Vehicles will queue through campus until a space is available at your designated unloading zone outside your fall residential building. Once your vehicle parks, the student will exit the vehicle and proceed to take their One Medical COVID-19 test at Healey Family Student Center or Leavey Center Ballroom. At the unloading zone, move-in aides will assist in unloading your belongings. We ask that the driver of the vehicle remain in the car.
MOVING IN
Your belongings will be unloaded into move-in carts by move-in aides and labeled with the student's name and cell phone number. As soon as unloading is complete, the driver must exit the unloading zone and will proceed to park their vehicle. Free, two (2)-hour parking is available on-campus.
After the COVID-19 test is completed, students bring confirmation of their completed test to a check-in table located outside their fall residential building. Students will check-in to receive their room key and the Hoya guest pass. The student and your one designated guest wearing the Hoya guest pass retrieve your move-in cart of personal belongings and proceed to push your items into the building and your room. After the move-in carts are unloaded into your room, return the empty cart back to the check in station.
The attached map outlines the flow of traffic on campus as well as the designated unloading zones.
Feel free to print it off and bring it with you to campus on move-in day.
DO I NEED TO QUARANTINE?
Students who are fully vaccinated do not need to quarantine. You do need to take the One Medical COVID-19 test upon arrival and will need proof of having completed that test – which you will receive when you get your test on campus – in order to pick up your key.

If you are not fully vaccinated, you may be required to quarantine. A member of Georgetown's Public Health team will provide guidance and answer any questions you have on quarantine, testing, and vaccination as part of the move-in process. For more information, please review this quarantine guide.
ARRIVING IN A TAXI OR RIDESHARE?
Have the taxi or rideshare vehicle enter through the regular queue at Canal Road. The unloading process is very quick and after the items are packed in the move-in cart, the vehicle can depart campus.
QUESTIONS?
Contact us: residentialliving@georgetown.edu | 202.687.4560 (M-F 9 AM-5 PM ET)
GOCard
GOCard (Georgetown OneCard) is the official identification card of Georgetown University. GOCards provide access into residential buildings and approved buildings, and can be used as a source of payment for books, supplies, and laundry. All undergraduate students can now add their GOCard to Apple Wallet or Google Pay.
More information is available here (new window)
Unauthorized Early Move-in
Students who arrive on campus without approval may not be accommodated until the approved move-in date. Any student who moves in but has not been approved will be charged a $200 fine. Keys and GOCard access will be declined until your approved move-in date.
Taxis, Ubers/Lyfts, & Other rideshare Services
Taxis and rideshare services should join the move-in queue. However, please be mindful that there might be a wait, depending on traffic
If you do not want your hired car to wait in the queue, select 3700 O St NW for your destination. There will be no move-in services (unloading assistance, moving carts, etc.) at that location, but it is the best place to be dropped-off and enter campus on foot.
Oversized Vehicles
The University strongly discourages the use of moving vans, box trucks, trailers, and roof racks. We reserve the right to turn away any vehicle that is deemed to be too large.
Please note: vehicles unable to make a 6'6" clearance will face additional delays during the move-in process.
Testing
All students should register for a COVID-19 test on campus upon arrival to campus. Confirmation of a completed COVID-19 test is needed to be issued your room key.
If you arrive after One Medical testing has concluded for the day (5 PM ET), you can schedule your COVID-19 test for the next day. You will be asked to show your scheduled test to the Key Assistants in Harbin Key Room who will issue you your room key. Be sure get that test completed at the scheduled date & time.
University Furniture
Any furniture that is provided by Residential Living must stay in the room throughout the academic year. Georgetown does not provide storage for unwanted furniture.
Do not take any university furniture home or place it in hallways or stairwells. If the furniture is not in the student's room upon check-out, the student will be charged for replacement.