platED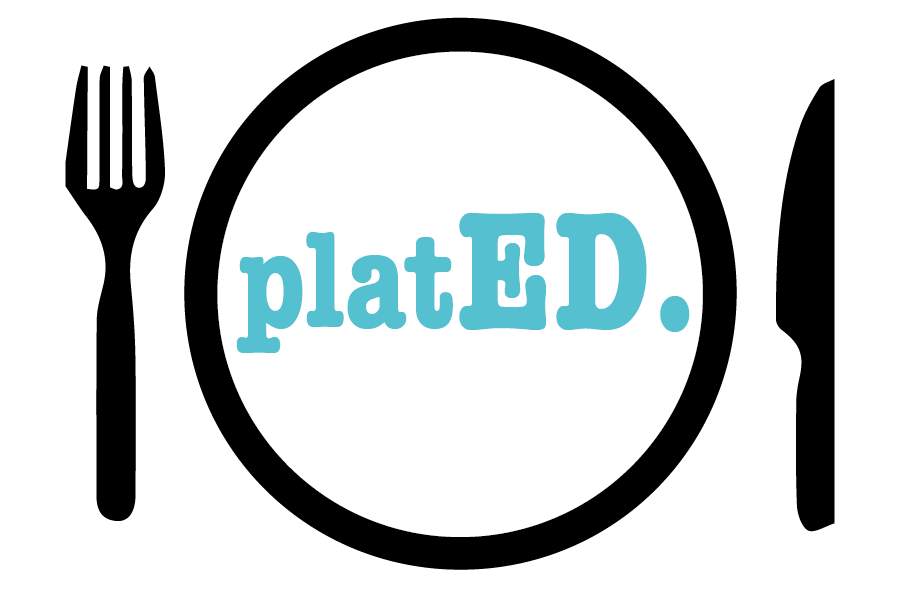 platED is a series of shared dinners between students and faculty/staff within on-campus residential spaces in which conversations on issues of diversity, identity, and social justice are fostered. 
Participants are encouraged to discuss current events that relate to one of seven main diversity (D7) topic areas: 
Religion/Spirituality
Race/Nationality/Ethnicity
Socioeconomic Status
Gender
Sexual Orientation
Body Image
Ability
Past dinner conversations have included:
The National Anthem & the Debate on Standing vs. Not Standing
Bias-Related Incidents on Campus
Free Speech Speakers on Campus
Student Information
platED is dedicated to maintaining and building an inclusive environment for students through discussions surrounding issues of diversity, identity and social justice within their residential spaces! Up to 8 participants have the opportunity to engage in conversations about topics related to diversity and social justice over a meal in one of our residential spaces on campus with a faculty or staff member.
How to host a platED dinner:
Identify a date/time, location, and participants. If you need help locating a space, you can talk to your RA about using the common room.
At least 2 weeks in advance of your proposed date, submit a platED application. Your event is not confirmed until you hear from the platED coordinator.
You will be contacted via email to confirm your details, identify a facilitator, and receive instructions on your meal delivery.
Participants coordinate receiving the meal delivery, welcoming your faculty/staff facilitator and dinner participants, and hosting the meal.
Have a great conversation!
The participant who submitted the request will return the itemized receipt to Harbin 100 within 3 business days and all participants complete the assessment form.
Click here for the application form.
Faculty/Staff Information
Interested in engaging in conversation with students about various aspects of identity?! Sign up to be a part of Residential Living's initiative, platED! platED is a discussion between students and a faculty/staff member over a meal that takes place within a residential area on campus. Residential Living helps pair faculty and staff members with a group of students who are interested in discussing a D7 topic (Religion/Spirituality, Race/Nationality/Ethnicity, Socioeconomic Status, Gender, Sexual Orientation, Body Image, Ability, and Current Topics). Additionally, there are opportunities to lead and present on topics for our monthly large-scale programs.  
We have over 35 facilitators from offices including Residential Living, Campus Ministry, Office of Global Education, Center for Student Engagement, Academic Resource Center, Center for Social Justice, Health Education, Career Center, LBGTQ Resource Center, and faculty members across campus.
If you are interested in being a facilitator please click here for our Faculty/Staff Interest Form.
Campus Wide Programs
Additionally, platED hosts monthly building wide programs in each of our residential spaces to discuss aspects of identity in a larger group setting and foster interaction between students, faculty & staff. This has included the Healthy Relationship Dinner Series, election watch parties, and study breaks.
Assessment
In 2017-2018, there were 20 platED events that included 165 students. Most students said they were likely to participate in a platED event again. One student shared that, "it was honestly really great. I think the group size, food selection, and timing were great, and the logistics were so easy on my end, which was very much appreciated."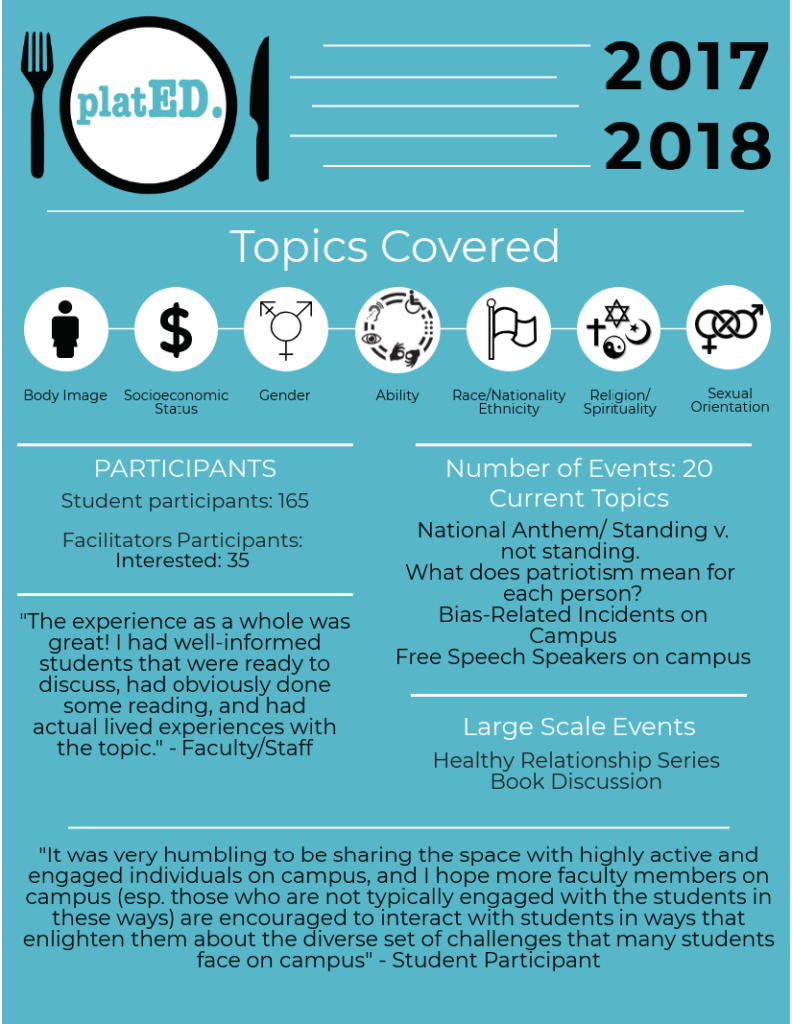 Questions, concerns, or suggestions can be sent to platED@georgetown.edu