55 H St. NW Intern Housing
About
Individuals interning or studying in Washington, DC can apply to live at the new 55 H St. NW residence. Completed in August 2022 and Georgetown's newest residential building, 55 H St. NW offers the latest in apartment living and amenities all within close proximity to the U.S. Capitol, Union Station, and downtown business districts.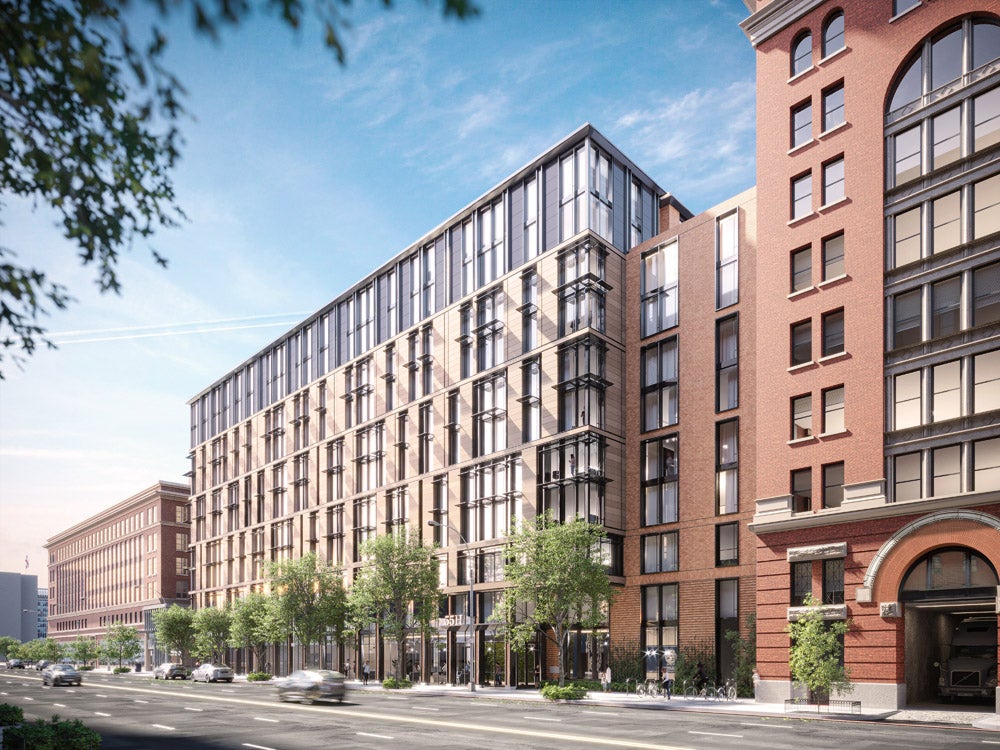 Campus Shuttle
The Downtown Campus Shuttle ( 55 H Street and 640 Massachusetts Avenue) starts Monday, August 15th and operates Monday through Friday.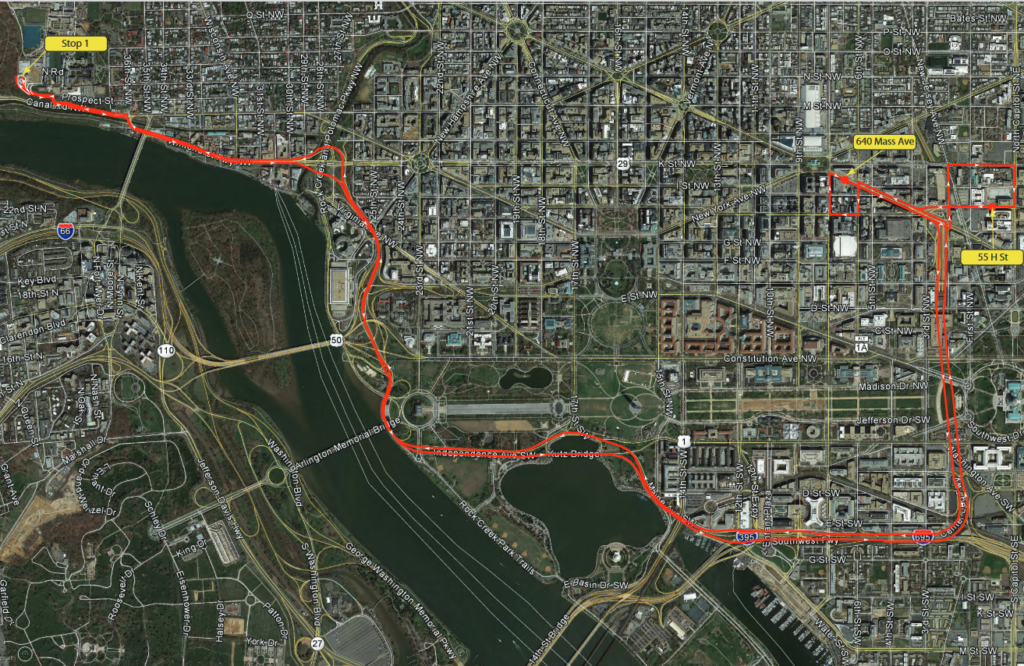 Frequently Asked Questions (FAQs)
Who can apply to live in 55 H St., and how do I apply?
Individuals interning or studying in Washington D.C. on a semesterly or annual basis can apply to live at 55 H St. NW via the Hoya Housing portal.
In order to join this Georgetown University residential community, all interested individuals must enroll as visiting non-degree students in the School of Continuing Studies and participate in a 1-credit online synchronous course.
How do I enroll as a visiting non-degree student as required by the housing application process?
To request enrollment through the visiting non-degree status for coursework in the Bachelor of Arts in Liberal Studies program, please complete the following steps by each semester deadline: (Spring semester: December 1; Summer semester: May 1; Fall semester: August 1).
Complete your Registration Request Form.
Request copies of official transcripts from any school where you have previously taken courses at the undergraduate and/or graduate level. Only official copies of transcripts will be accepted for review.
Return your completed form(s) and official transcripts to the address below by the deadline stated for each semester to allow adequate time for review. You may also return your form electronically via email and have your institution(s) send official transcripts electronically if they are available; electronic documents should be sent to visitingndgd@georgetown.edu.
Attn: Admissions/VND
Georgetown University
School of Continuing Studies
640 Massachusetts Avenue, N.W.
Washington, DC 20001
Transcripts from Schools Outside of the U.S.
Official transcripts from all undergraduate and graduate institutions outside of the United States, where credit has been earned, should be evaluated by WES, ECE, or SpanTran. Applicants should request the course-by-course evaluation.
English Language Proficiency Exams
Coursework at Georgetown University is reading- and writing-intensive and requires proficiency in written and spoken English.
All applicants, regardless of citizenship, whose first language is not English are required to complete one of the following English proficiency examinations:
TOEFL: Minimum score of 100 (iBT), 600 (paper-based test), or 250 (computer-based test)
IELTS: Minimum score of 7.0
Important Notes
All U.S. Institutions must be accredited through one of the bodies officially recognized by the U.S. Department of Education.
Students cannot be registered in two Georgetown University programs in the same semester.
Students approved to take courses in the visiting non-degree status must take them for credit and cannot audit or take classes pass/fail. They should contact visitingndgd@georgetown.edu directly with questions.
More information can be found here: Visiting Non-degree.
Required 1-Credit Course
Name: The Reflective Professional: Journeying Toward Mission-Driven Leadership (LSHV 480) (1- credit course)
Faculty: Peter J. Kralovec
Semester: Fall 2022
Cost: $984
Students: Visiting Non-degree
Modality: Online Synchronous
Schedule: 3 Saturdays (4 hours) during the course of a semester
Course Description:
Action and contemplation might seem like polar opposites in a world that prioritizes constant activity and motion. But at Georgetown, and schools like it around the world animated by the Jesuit tradition of education, the commitment to social justice is rooted in the value of "Contemplation in Action." This course will explore reflection as both theory and practice and relates it to a life of activity for justice and the common good. In the same way that Georgetown fosters its mission and values in an inclusive and invitational way that honors community in diversity, this seminar space welcomes students identifying with a diversity of religious and spiritual traditions (or none at all).
What apartment types are available?
New 4-bedroom apartments, 2-bath units with shared kitchens and living rooms are available as intern housing.
Approximate square footage of units:
4 bedroom: 825-873 square feet
What is the cost of living at 55 H St.?
Four bedroom/two bath apartment (four residents) – $1,836/resident/month
Each Housing Occupancy Agreement (HOA) includes a single bedroom in a furnished apartment for the stated length of the signed HOA. All utilities are included in the costs including: water, sewer, trash, high-speed wireless internet, in-unit laundry.
Approximate costs in Washington DC for these utilities are:
Wi-Fi: $65/month
Water, Electric, Trash: $158/month
Laundry: $20/month
Fitness center: $80/month
Total monthly-living utilities value at 55 H St.: $323/month
You can review the Student Billing calendar for 2021-2023 via this link.
What is a Housing Occupancy Agreement (HOA)?
Housing Occupancy Agreements are legally binding agreements that residents sign that outline important dates, deadlines, and expectations that the university has for you as a resident. This Agreement is signed as part of the online application for 55 H St. housing.
What is the length of the Housing Occupancy Agreements?
Residents have the flexibility of choosing between two Housing Occupancy Agreement (HOA) options:
Academic Year HOA (9 month): August 21, 2022 to May 15, 2023
Calendar Year HOA (12 month): August 21, 2022 to August 13, 2023
Does the Housing Occupancy Agreement (HOA) require a credit check or deposit?
No, the HOA does not require a credit check or first/last month deposit.
How soon do I need to provide notice that I will be moving out of my room at 55 H St.?
The move in and move out dates for each Housing Occupancy Agreement (HOA) are set as defined. Residents are asked to inform Residential Living if they are departing their on campus space early.
What furniture is provided in the apartments?
Each bedroom has:
Bed frame and full XL size mattress (54"x80"x10")
Desk and desk chair
Dresser and built-in closet with clothes rack, shelf and mirrored doors.
Shared kitchen:
Brushed-nickel refrigerator/freezer
Range with oven
Dishwasher
Kitchen stools
Shared space:
In-unit laundry units
Couch
Coffee table
Entertainment stand (televisions are not provided)
What other communal amenities are available in the building?
Community Rooms: Each residential floor has a shared community room with a shared kitchen, communal dining table, couches and armchairs, and study tables and chairs. There are large screen televisions.
Lobby/Courtyards: The building lobby has a variety of group study rooms and spaces as well as a game room. Just off the lobby are two outdoor courtyards with communal furniture and two electric grills.
Penthouse: The penthouse community space features a fitness center (at no cost to residents), contemplation space, viewing room and additional study and communal space for residents.
What is the move-in process for 55 H St. NW?
Approved applicants can move into 55 H St. NW Sunday, August 14 – Sunday, August 21 from 9 a.m. – 5 p.m. daily.
Can I move in earlier than August 2022?
As of this time, no early move-in requests can be approved because of building completion work.
Does Georgetown offer moving services?
We do not provide moving services for residential students, but staff will be on hand to help welcome you for move-in between Sunday, August 14 – Sunday, August 21 from 9 a.m. – 5 p.m. daily.
How does mail & package delivery work at 55 H St.?
Each apartment has an assigned mailbox for which residents receive a key. USPS delivers all letter mail directly to each mailbox. There is a package room where residents can pick their packages up with the Front Desk staff.
Can I have a pet?
Unfortunately, no pets are permitted at 55 H St. Residents requiring a Service Animal or Emotional Support Animal can refer to the university's guidelines and approval process.