Intern Housing at 55 H St
Have an internship and/or studying in Washington, DC? Apply to live at Georgetown's new downtown housing option at 55 H St! Newly constructed in August 2022, 55 H St. NW offers the latest in apartment living and amenities all within close proximity to the U.S. Capitol, Union Station, and downtown business districts.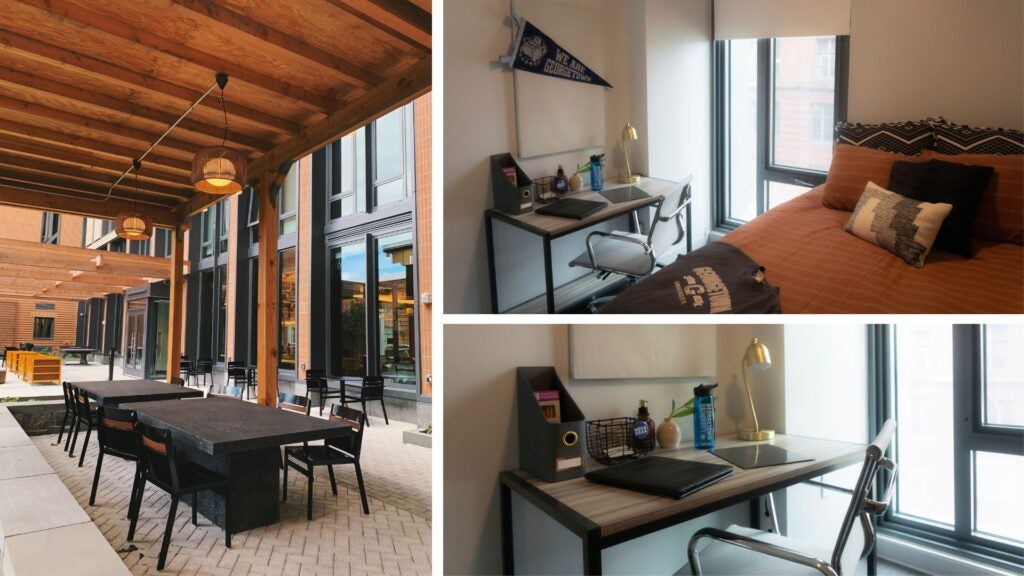 Summer 2023:
Arrival: Sunday, May 28, 2023 | Beginning 10 AM-5 PM
Departure: Saturday, August 5, 2023 | No later than 10 AM
Summer Intern Housing:
Summer Intern Housing is for students from Georgetown & other colleges and universities who are participating in an internship in the DC Metro area. We assign all students with other interns in apartments. Please indicate first and last name of desired roommate within the application when prompted. Both or all parties must write each others names in their own applications in order to be assigned as roomates.
| | |
| --- | --- |
| | Single Bedroom in Shared Apartment |
| Stay of 8 Weeks or Greater | $497.00*/Week |
*Rates do not include 14.95% D.C. Occupancy Tax. After April 1, 2023, D.C. Occupancy tax will increase to 15.95%
Dates:
Guests must select a minimum of 8 weeks
All dates in are Sundays, all days out are Saturdays; participants may leave anytime within the week, but housing is only offered on a weekly basis
Application Process:
The Summer 2023 Intern Housing Application will be available on Hoya Housing (new window) beginning 12 PM ET February 20, 2023.
Payment is due in full via card payment at time of reservation. MasterCard and Visa only. Please see a copy of the General Cancellation Policy for important information.
You will receive confirmation of payment immediately.
Assignment and check-in information will be emailed approximately 2 weeks prior to your check-in date.
Please review our Summer 2023 Intern Housing Agreement.

Questions?
Email 55hst@georgetown.edu or call 202.687.0937
Frequently Asked Questions (FAQs)
Who can apply to live in 55 H St., and how do I apply?
What is our general cancellation policy?
All cancellation requests are subject to a fee dependant on the date of notification as follows:
Cancellations with written notice submitted within 48 hours of completing a housing application are not subject to a cancellation fee.
Cancellations with written notice submitted after 48 hours of completing a housing application and up to 30 days prior to the Sunday of the arrival week forfeit 25% of the full amount paid.
Cancellations with written notice submitted 29 days prior up until 24 hours prior to the Sunday of the arrival week forfeit 50% of the full amount paid.
Cancellations with written notice submitted 24 hours or less prior to check-in, no shows for 48 hours without notice, early departures, or taking possession of the key and then not staying, forfeit the full amount and are not eligible for a partial refund.
For further details about our cancellation policy, please email us at 55hst@georgetown.edu.
What is the Downtown Shuttle route and how often does it run?
Downtown Campus Shuttle ( 55 H Street and 640 Massachusetts Avenue)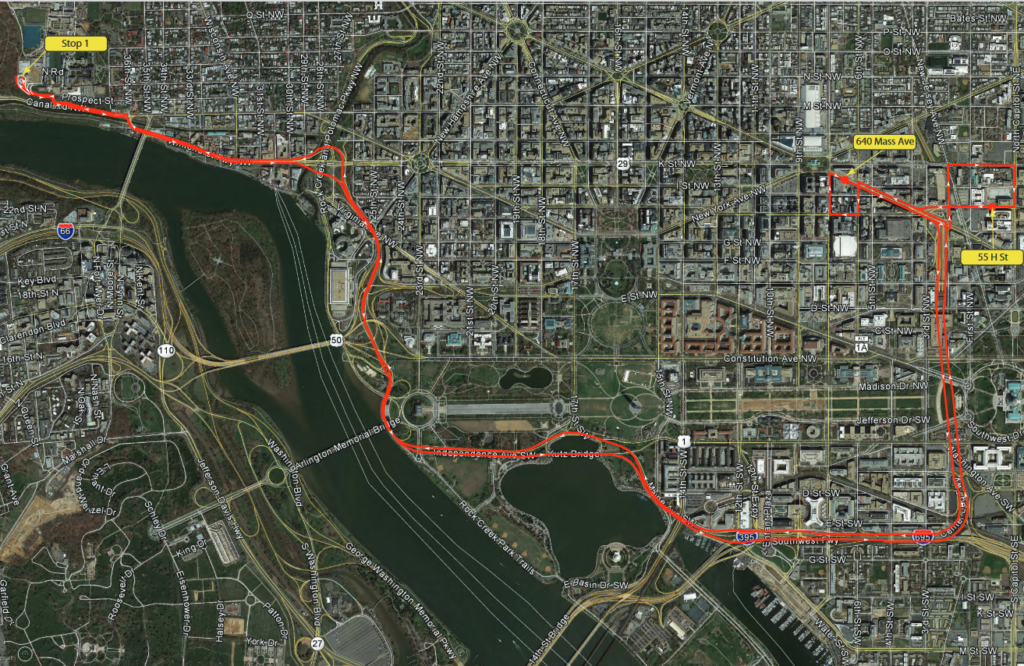 What apartment types are available?
Interns are assigned to single bedrooms in 4-bedroom, 2-bath apartments with shared kitchens and living rooms.
Approximate square footage of units: 825-873 square feet
What is the cost of living at 55 H St.?
Single bedroom in four bedroom/two bath apartment – $8,216 per semester
Each Housing Occupancy Agreement (HOA) includes a single bedroom in a furnished apartment for the stated length of the signed HOA. All utilities are included in the costs including: water, sewer, trash, high-speed wireless internet, in-unit laundry. 
Approximate costs in Washington DC for these utilities are:
Wi-Fi: $65/month
Water, Electric, Trash: $158/month
Laundry: $20/month
Fitness center: $80/month
Total monthly-living utilities value at 55 H St: $323/month
What is a Housing Occupancy Agreement (HOA)?
Housing Occupancy Agreements are legally binding agreements that residents sign that outline important dates, deadlines, and expectations that the university has for you as a resident. This Agreement is signed as part of the online application for 55 H St. housing.
What is the length of the Housing Occupancy Agreements?
For spring 2023, the Housing Occupancy Agreement length is
How soon do I need to provide notice that I will be moving out of my room at 55 H St.?
The move in and move out dates for each Housing Occupancy Agreement (HOA) are set as defined. Residents are asked to inform Residential Living if they are departing their on campus space early.
What furniture is provided in the apartments?
Each bedroom has:
Bed frame and full XL size mattress (54"x80"x10")
Desk and desk chair
Dresser and built-in closet with clothes rack, shelf and mirrored doors.
Shared kitchen:
Brushed-nickel refrigerator/freezer
Range with oven
Dishwasher
Kitchen stools 
Please note: kitchenware and cookware is not provided
Shared space:
In-unit laundry units
Couch
Coffee table
Entertainment stand
Please note: televisions are not provided
What other communal amenities are available in the building?
Community Rooms: Each residential floor has a shared community room with a shared kitchen, communal dining table, couches and armchairs, and study tables and chairs. There are large screen televisions.
Lobby/Courtyards: The building lobby has a variety of group study rooms and spaces as well as a game room. Just off the lobby are two outdoor courtyards with communal furniture and two electric grills.
Penthouse: The penthouse community space features a fitness center (at no cost to residents), contemplation space, viewing room and additional study and communal space for residents.
How does mail & package delivery work at 55 H St.?
Each apartment has an assigned mailbox for which residents receive a key. USPS delivers all letter mail directly to each mailbox. There is a package room where residents can pick their packages up with the Front Desk staff.
Can I have a pet?
Unfortunately, no pets are permitted at 55 H St. Residents requiring a Service Animal or Emotional Support Animal can refer to the university's guidelines and approval process.