Justice & Diversity in Action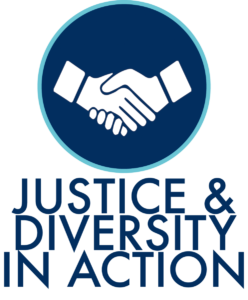 Members of Justice and Diversity in Action (JDA) strive to create and sustain an environment that supports each other's work for social change and commitment to grow in knowledge of human diversity in all its aspects. Together, we seek to be open, honest, and sensitive in examining attitudes, prejudices, and actions that undermine respect for diversity and perpetuate injustice, as these arise both within and beyond the Georgetown University community.
We advocate for justice, as individuals and as a group. Our members come from all schools in the University; often there is good mix of international students as well as those who hail from the United States. Programming aims to grant residents the opportunity to learn more about prevalent social justice issues through both dialogue and engagement within the community; calling residents to be both open-minded and creative.
Justice & Diversity in Action is located in McCarthy Hall and is open to all class years.
Learning Outcomes and Goals
Residents will be able to identify 2-3 social justice focus areas outside of their personal interests.
Residents will be able to articulate what 'justice and diversity in action' looks like from multiple contexts including community-wide, national, and international perspectives.
Residents will be able to practice 'justice and diversity in action' through intentional programming, engagement with the greater DC community, and reflective dialogue with one another.
Key Programs:
Opening Retreat
Collaboration with student groups, offices, and campus resources
Opportunities for community service
Participation in local marches and peace rallies
Engagement with local organizations
LLC Leadership
Advisor: Professor Elizabeth Grimm-Arsenault
Community Director: