Explore DC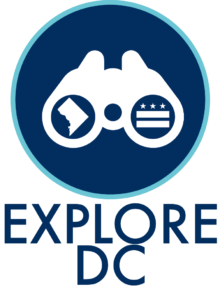 NOTICE | Due to the pandemic, Explore DC will be on hold for the 21-22 academic year as a result of limited resources and staffing shifts and adjustments.  We are continuously working to revitalize all LLCs to ensure they uphold the integrity of the mission, vision, and values that were created by its advisors. We apologize for any inconvenience this decision may cause, and we appreciate your understanding in advance.
Explore D.C. aims to connect first-year students with the vibrant and diverse community of Washington D.C. by providing students with unique opportunities to experience D.C. culture through local events, excursions, community service projects, and professional networking opportunities. Students also engage in themed discussions and dialogues that promote reflection, inclusivity, and social justice.
Explore DC is located in Darnall Hall and is open to first year students
Learning Outcomes and/or Goals
Residents will develop strong navigation skills when traveling throughout the District, including the use of public transportation.
Residents will gain an understanding of the cultural fabric of the city as well as its history and development.
Residents will be able to identify key issues currently facing the District and engage in finding solutions.
Key Programs
During the first semester, students learn how to navigate the city, utilize campus resources to engage with the broader D.C. community, and gain an understanding of how D.C. evolved into the melting pot culture that it is today. These opportunities build a solid foundation at the beginning of the academic year and continue to enhance students' experiences at and beyond Georgetown. As the academic year progresses, students are encouraged to draw from Jesuit values of service and 'men and women for others' and collaborate in a group initiative that pinpoints an area of need in the D.C. community.
From tours at the Pentagon and Capitol Hill to excursions at Frederick Douglas's house and Eastern Market, Explore D.C. offers a comprehensive taste of the city and opportunities to engage beyond the front gates that few students get to experience.
LLC Leadership
Advisor & Community Director: Erica Blake